In the middle of a fairly quiet week Asus introduced new Zenfones to bolster an already strong lineup. The Asus Zenfone 2 Deluxe is a prettied up version of the Zenfone 2 from earlier this year, while the Zenfone 2 Laser is a version of the 5″ model but with a better camera performance.
Asus Zenfone 2 Deluxe
Even with the same dimensions as the model from March, the Zenfone 2 Deluxe stands out with its curious "premium-crafted polygonal design." It features 500+ triangles joined together for a "crystal miracle."
The Zenfone 2 Deluxe is still a dual-SIM phone with a 5.5″ 1080p screen (Gorilla Glass 3 on top) and is powered by the same Intel Atom chipsets – Z3560 and Z3580. This time both feature 4GB RAM (the older model had paired the Z3560 with 3GB RAM).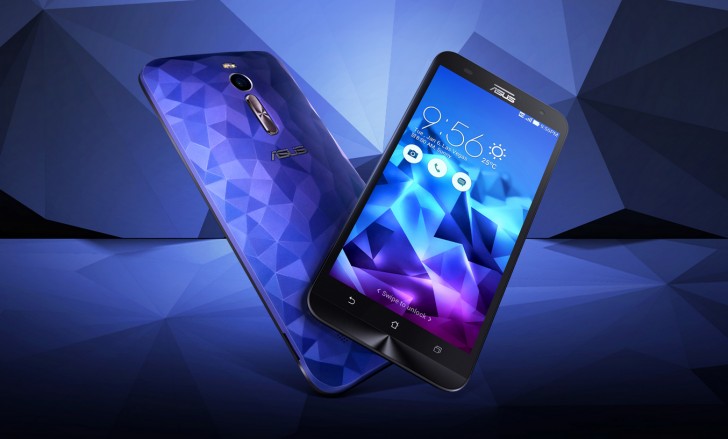 Another improvement is that the base storage is now 64GB and you can go up to 128GB. You can add another 128GB with a microSD card. It runs Android 5.0 Lollipop as before.
The camera setup is the same – 13MP for photographing others, 5MP for yourself. Video capture resolution is not listed but we suspect it's still at 1080p. Inside is a 3,000mAh battery with BoostMaster fast charging – 60% in 39 minutes.
Asus Zenfone 2 Laser
Like the ZE500CL, the Asus Zenfone 2 Laser has a 5″ 720p screen and is more compact than its 5.5″ siblings. The change is the camera – it's now 13MP (up from 8MP), which can be extended up to 52MP with Super Resolution mode.
And as the name suggests there's Laser autofocus. The main camera features 5 lenses and an f/2.0 aperture, while the 5MP selfie camera (up from 2MP) has a wide-angle 85° lens with f/2.0 aperture. The laser autofocus system promises focus locks in 0.3s and works even for macros. There's Super HDR mode for shooting against bright light and a low-light mode for "4x light sensitivity and noise reduction".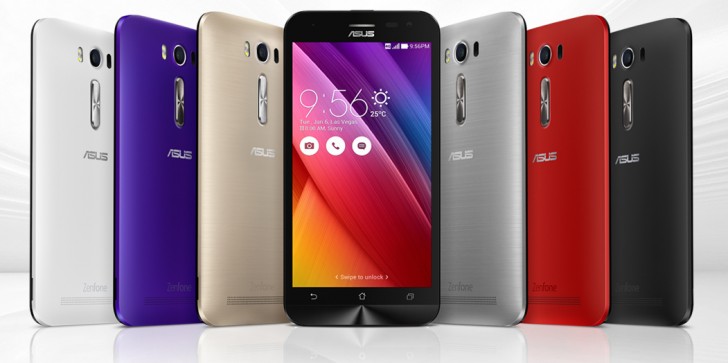 Unlike the other two 5″ Zenfone 2 models, the Asus Zenfone 2 Laser is powered by a Qualcomm Snapdragon 410 (the others use Intel Atoms). It has 2GB of RAM and 8GB or 16GB of storage (expandable, of course).
The 5″ screen has 720p resolution and it's a non-IPS panel, but at least it's protected by Gorilla Glass 4. Like its big bro it runs Android 5.0 Lollipop and has LTE connectivity. The battery is either 2,070mAh or 2,400mAh, this could be a regional thing.