The Galaxy S5 Neo is hardly a surprise. We have been aware of the model ever since last year and various leaks have already given away most of its specs sheet. Last month, the handset even reportedly went up for preorder in the Czech Republic, but the information was slightly shady, especially considering the cited July 3 shipping date, which never came to pass.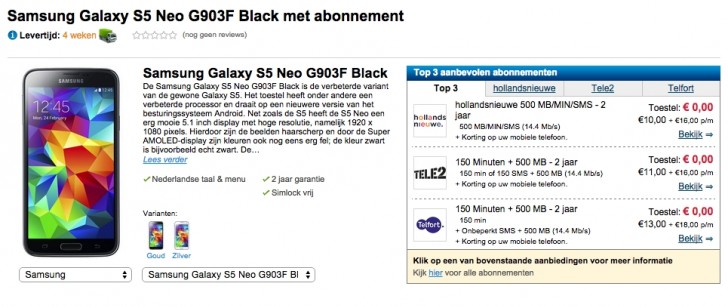 Today brings another similar scoop, but this time things look a lot more credible. A reputable retailer in the Netherlands now has the Galaxy S5 Neo (SM-G903F) officially listed for preorder, with shipments set for the end of next month. This also confirms the specs sheet for the model with quite a few changes compared to the Galaxy S5.
For one, the Qualcomm Snapdragon 801 chipset has been swapped for Samsung's own Exynos 7580. It is a 64-bit chip with a total of eight Cortex-A53 cores, clocked at 1.6 GHz and a Mali-T720 GPU. It is worth noting that this chip is functionally slower than the Snapdragon silicon it replaces, but that is to be expected from a Neo device. Another big change is the modem, which is now capable of Cat.6 LTE speeds of up to 300 Mbps.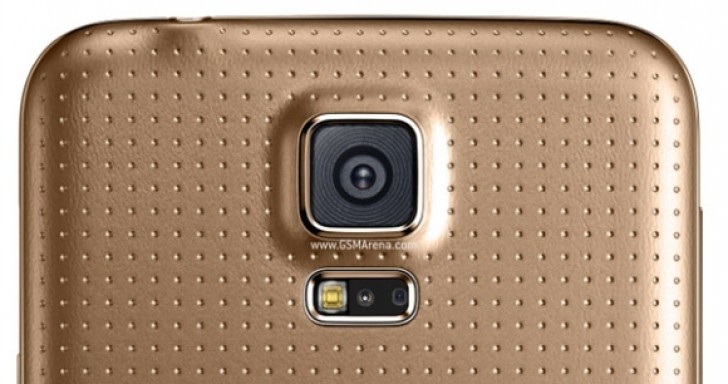 Most other specs seem to be unchanged. The S5 Neo is advertised as having a 5.1-inch Super AMOLED FullHD display, just like its sibling. Also 2GB of RAM. Naturally, this means it has to be pretty similar to the S5 in dimensions as well and it is. Actually, they look absolutely identical – 142 x 72.5 x 8.1 mm with a weight of 145 g. So the S5 Neo could in fact borrow the exact same shell from the S5.
There is, however one other change. The front camera has been upgraded from 2MP to 5MP. Allegedly, this is the same shooter as the one found in the Galaxy S6 and S6 edge flagships. As for the main camera – it is the same at 16MP.
The retailer has also included a price for the device – €429. Color choices include black, gold and silver and shipping should begin in four weeks. This does sound credible enough, but still should be taken with a grain of salt, as the S6 is already here and last we heard, the S5 Neo was canceled. Still, you can decide whether to believe the seller for yourself.