Samsung may be getting ready to unveil the Galaxy Note 5 and Galaxy S6 edge+ in just a few days, but the Korean company is apparently already working on the Galaxy S7 too.
Today a leaked document surfaced in China purporting to depict an internal Samsung communication. It shows support for "MSM8996" (that's the model number for the Qualcomm Snapdragon 820 chipset) and "Jungfrau" being added to the company's software development plan for Android M.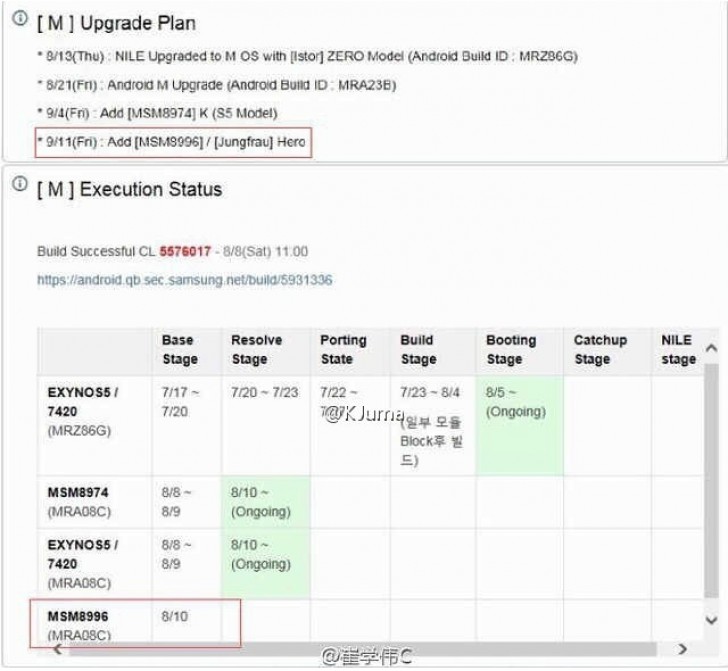 Jungfrau has so far been rumored to be the codename of the Galaxy S7. So this could mean that Samsung is currently starting to test the Snapdragon 820 inside its next flagship. Obviously it's far too early to tell if the company will choose to keep this SoC for the final hardware of the device, but it's still promising news for Qualcomm.
After a few years in which it supplied Samsung with chipsets for at least one version of its yearly flagship, in 2015 the Korean company chose to go all-in with its Exynos silicon. But things might change again next year, it is apparent from this leak.
The Snapdragon 820 may in fact be fully detailed by its maker as soon as tomorrow, if some past mumblings turn out to have been accurate. Qualcomm's next top of the line chip should be out in devices either by the end of this year or in early 2016.