Introduction
You don't need to be the best if you can be the crowd favorite. The Samsung Galaxy A8 is Samsung's thinnest smartphone yet and is certainly learning from the Note5 in some respects, but while it can't beat it on features it's likely to rival it on popularity.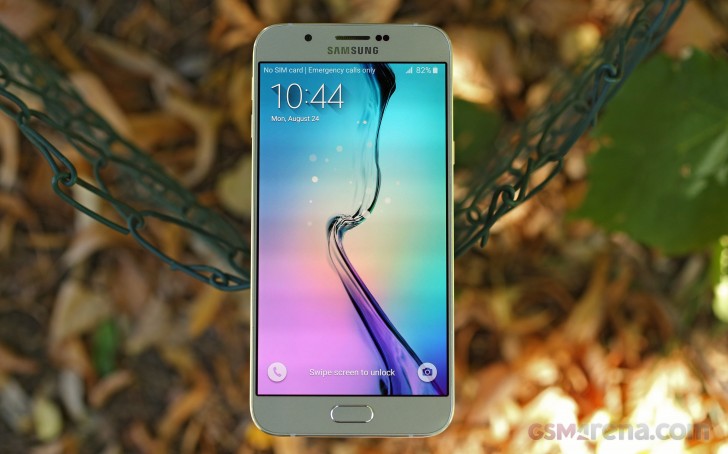 The Galaxy A8 is the biggest of the A series with a 5.7″ Super AMOLED screen like the last three Notes. It only has a 1080p resolution though, like the Note 3, so it's not as superbly crisp as the Note5 but not bad either at 386ppi (close to the iPhone 6 Plus 5.5″ 1080p display).
Like the Galaxy Note5, the A8 has a metal frame, but it's lighter and thinner. At only 5.9mm thick it limbos lower than any other Galaxy yet and even most other phones on the market. Surprisingly, this didn't come at the expense of battery capacity – the Galaxy A8 actually tops the Note5 in this category.
The good news keeps rolling in when we get to the camera too. A 16MP shooter adorns the back with an f/1.9 aperture (sound familiar?). For selfies there's a 5MP f/1.9 camera. What's missing compared to the Note5's camera is OIS and 2160p video capture.
Key features
5.9mm slim metal chassis; Corning Gorilla Glass 4 front, plastic back
5.7″ 1080 x 1920px Super AMOLED display with 386ppi
64-bit Snapdragon 615 chipset; octa-core CPU (quad A53 at 1.8GHz + quad A53 at 1.3GHz), Adreno 405 GPU; 2GB of LPDDR4 RAM
-OR- 32-bit Exynos 5430 chipset; octa-core CPU (quad A15 at 1.8GHz + quad A7 at 1.3GHz), Mali-T628 MP6; 2GB of LPDDR4 RAM
32GB of flash memory; microSD card slot
Optional dual-SIM (microSD goes into SIM2 slot)
Android 5.1.1 Lollipop with TouchWiz UX
16MP camera with f/1.9 aperture; 1080p video capture
5MP/1080p front-facing camera, f/1.9 aperture
Cat. 6 LTE network support; Wi-Fi 802.11 a/b/g/n/ac (2.4/5GHz); GPS, GLONASS; Bluetooth 4.1; microUSB 2.0 with OTG
3,050mAh non-removable battery
Fingerprint scanner
FM radio with broadcast recording
Main disadvantages
The battery is not user-replaceable
No IR port
No enhanced resistance to liquids or dust
No stereo speakers
No NFC, so no Samsung Pay
Samsung's naming pattern is not the most organized but it's thoroughly consistent in one thing – only "Note" devices get an S Pen. So the Galaxy A8 doesn't have a stylus, will you miss it? This year Samsung's alt-tablet, the S6 edge+, doesn't have one either (unlike last year's Note Edge), so maybe the company is wondering the same thing.
Did we mention that the Galaxy A8 has a microSD slot? The clicky S Pen didn't get much of a reaction, but dropping the microSD slot from the Note5 certainly caused a ruckus. There's a dual-SIM version too – with it the microSD slot doubles as the SIM2 slot.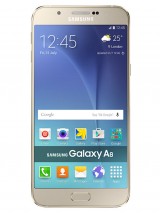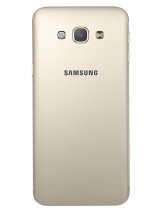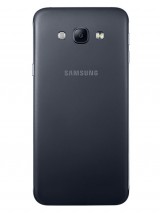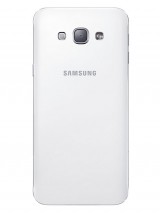 Samsung Galaxy A8 official images
The camera's main weakness – no 4K video – probably stems from the chipset. A Snapdragon 615 is a solid choice in terms of processing power, but it's lacking in gaming performance and video capabilities. The other option, Exynos 5430, can record 4K video but Samsung probably wanted to equalize the capabilities of both versions (they have the same model name after all).
You won't be short of security features thanks to the fingerprint sensor though. However, there's no NFC so you will be missing out on Samsung Pay.
That nitpicking aside, we're barely one page in and we can see why our readers are so excited about the Samsung Galaxy A8 – a premium-feel phablet with most of the best features of the Galaxy Note5, but without its king of the jungle price tag.
Important note: We're reviewing the Exynos version of the Galaxy A8 and the battery life and benchmark results should be considered valid only for this model. The Snapdragon 615 version will probably perform differently.
Unboxing the Galaxy A8
The Samsung Galaxy A8 box is an attractive blue color, but beyond that it's not particularly exciting. It brings a one-piece, three-button headset, a microUSB cable and a charger. The charger is rated at 5V @ 2A or 10W.
This is Quick Charge 1.0, v2.0 outputs 50% more power (15W) so charging will be slower than the Galaxy Note5 (they have basically the same battery capacity).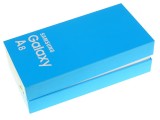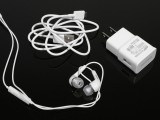 Attractive box with standard contents
There's a card eject tool to help you access the two card slots. We have the dual-SIM Galaxy A8, but the single-SIM version also has two slots.
Samsung Galaxy A8 360° spin
At 5.9mm the Samsung Galaxy A8 is the company's thinnest smartphone. True, others have gone below 5mm, but thickness wasn't a top priority for Samsung until recently.
Nearly 74% of the Galaxy A8's front is taken up by screen – that's a bit less than the Note5 since the A8 is 5mm taller. It is essentially the same size as an iPhone 6 Plus (except 1.2mm thinner, 21g lighter and with 0.2″ more screen).
Hardware overview
The Samsung Galaxy A8 is thin, but not obsessed with it. It slims down the traditional Galaxy design without going far off the beaten path. It certainly makes the phone look and feel better though, a Galaxy Note 3 or 4 seem bulky in comparison. And get this – the camera barely sticks out at the back.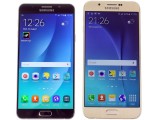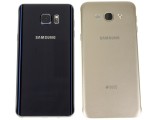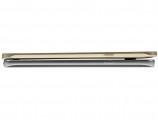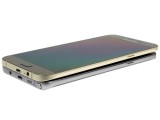 Samsung Galaxy A8 and Galaxy Note5
It's clear that some design decisions helped Samsung make a slimmer phone without sacrificing the battery capacity or having a protruding camera. No S Pen leaves more room inside, no OIS makes for a thinner camera module.
Whether you miss those or not, you'll certainly appreciate the slender frame of the Galaxy A8. The alloy sides have been chamfered to lead the hand into the very slight curve of the back. The chamfer goes away at the four corners, making them a bit wider. It's subtle but it gives you more grip.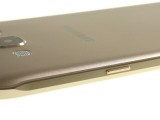 The shapes of the Galaxy A8 make it easy to hold
That's already helped by the matte plastic on the back. It is plastic rather than glass, which doesn't look as good as (clean) glass, but it doesn't get as smudgy and is grippier to boot. For color options you get the standard White, Black and Gold (that's the one we got, color-wise more brass than gold if you ask us).
One grudge we have with the back cover is that it would have benefited from a subtle texture, not to mention the surface on our retail product is not perfectly even and has some slight dents here and there (and it's a brand new phone). Overall, we feel the plastic could have been design a little differently to match the upscale looks and feeling of the phone better.
The glass on the front has a very slight bevel, while the metal frame has been chamfered and is fairly smooth when doing side-swipe gestures. The metal is slightly raised above the glass, to offer a little extra protection if the Galaxy A8 falls flat on the floor.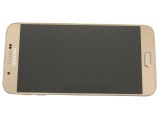 Swipe gestures are fairly comfortable on the screen thanks to the rounded metal frame
Weighing 151g, the A8 is one of the lighter phones its size. It's 20g less than the Galaxy Note5 and iPhone 6 Plus, which also helps with the handling – it's a tall device, but doesn't feel top-heavy. It doesn't feel hollow either, the A8 is thin, which keeps the volume down and feeling dense.
It may not look quite as premium as the Note or the iPhone (one has shiny glass, the other – cool aluminum), but letting someone hold it for a minute can quickly change their mind.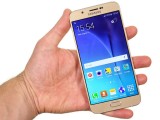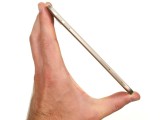 The Galaxy A8 feels great in the hand
Below the screen is the hardware Home key, which also doubles as a fingerprint reader. We're happy to report it's not the swipe variety of the S5/Note 4 generation, but the same high-quality nearly instantaneous reader that the S6/Note5 got.
The capacitive Back and App switcher keys fade completely within the background when the backlight is off. At least on the Gold version they disappear completely, leaving a cleaner (if a bit impersonal) design. Above the screen are the 5MP selfie camera, the ambient light sensor and the proximity sensor.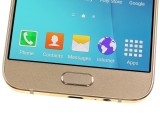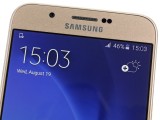 Fingerprint reader on the Home key • 5MP selfie camera above the screen
The rest of the Samsung Galaxy A8 design should be familiar to anyone who has seen a recent Galaxy. One interesting choice is to have two card slots on both the single and the dual-SIM version. One holds the main SIM, the other the microSD card.
It's just that on the dual-SIM version the second card slot accepts either a nano-SIM or a microSD card. If the price premium is small enough, you might as well just get the dual-SIM version even if you think you'll never need a second phone line.
The A8 has 32GB of built-in storage, so you can get by without a microSD for a while, but dual-SIM users with a lot of multimedia may find it a tight fit.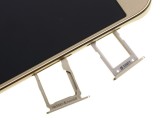 Both versions of the Galaxy A8 have two card trays
Anyway, also on the left are the volume keys, while the right side houses the Power button. The three keys are thin and have a rather flimsy press.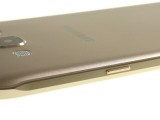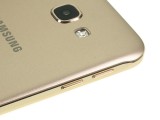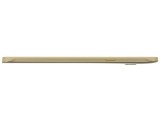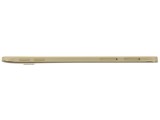 The keys on the side are thin and not very comfortable
Continuing around the sides, a standard microUSB 2.0 port is on the bottom (no MHL though), next to the 3.5mm audio jack. There's a microphone snuggled between them. The second mic is on top, used for noise cancellation and stereo audio in the camcorder. There's no IR blaster here (but the Note5 doesn't have one either).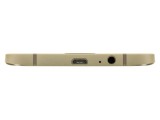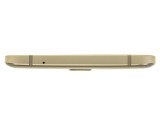 microUSB 2.0 port and 3.5mm audio jack on the bottom • just a mic on top
Finally, we get to the back and let's just rip that band-aid off – the back is non-removable, the battery is not accessible. At 3,050mAh it has 50mAh over the Galaxy Note5, but even so the added flexibility would have been a plus.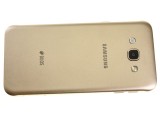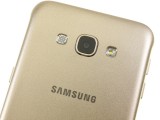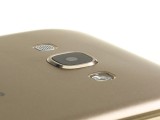 The 16MP camera is nearly on the same level as the back
At least the camera barely sticks out the back – it's not flush, but it's much better than the Galaxy S6. Other than that, the design of the back is straight out of the Galaxy S III sketchbook, down to the speaker grille. Hardly original, but let's be generous and call it "time-tested."
Display
Big screens are in and the Galaxy A8 matches the Galaxy Note's 5.7 inches. That's 0.2″ bigger than the Galaxy A7 display. The Galaxy A series are more conservative with resolution than the corresponding S series phone, which in our case means 1080p resolution.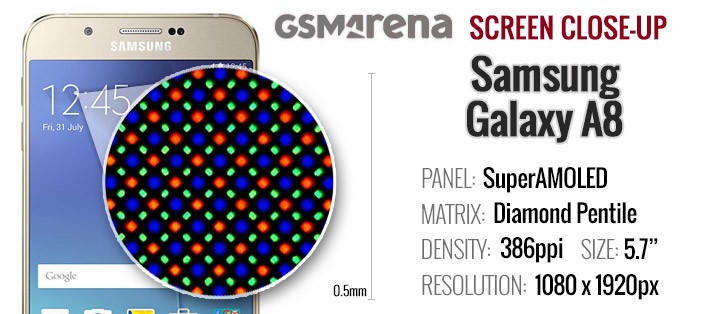 Still, 386ppi is above certain benchmarks of visual acuity. It beats Retina's 326ppi, but not the iPhone 6 Plus display, which is a 5.5″ 1080p unit. Any difference you may notice in sharpness between those two (and we found it basically impossible) is due to the different sub-pixel design of Super AMOLED compared to traditional LCD.
It is a Super AMOLED though, these days OLEDs are rare and fans of true blacks and high contrast often have little elsewhere to go but Samsung. To its credit, Samsung has developed its screen tech and achieved accurate colors and high brightness.
Display test
50% brightness
100% brightness
Black, cd/m2
White, cd/m2
Contrast ratio
Black, cd/m2
White, cd/m2
Contrast ratio
Samsung Galaxy A8 max manual
0.000
169
∞
0.000
367
∞
Samsung Galaxy A8 max auto
–
–
–
0.000
560
∞
Samsung Galaxy Note 4
0
291
∞
0
399
∞
Xiaomi Redmi Note
0.3
305
1001
0.52
536
1016
Meizu m2 note
0.160
183
1096
0.420
473
1108
OnePlus Two
0.158
180
1139
0.300
356
1187
Apple iPhone 6 Plus
0.17
208
1197
0.52
705
1361
If you boost the brightness slider you get to the level of a good LCD. Keep in mind that auto brightness mode can push the brightness of the screen noticeably higher in very bright conditions. The reflectivity is kept way down so you can be conservative with the slider even in broad daylight and still have a legible display.
Sunlight contrast ratio
Viewing angles are great though you might see a minor blue/green tint at steeper angles (it's not uncommon with OLEDs). The screen mode setting is available to adjust the color temperature, contrast and saturation. We found that the Basic setting provided the most accurate colors, though it sets the contrast lower than we're used to. If the image looks too bland to your taste, we suggest you go for the AMOLED photo mode, which is nearly as accurate but boosts the contrast along with the saturation of some colors. AMOLED video pushes colors even further, which one you use is a matter of personal preference.
Overall the screen is excellent for the price. It doesn't have the perfect clarity of the Galaxy Note5's screen, but the Samsung Galaxy A8 will satisfy all but the most discerning of users.
Connectivity
The Samsung Galaxy A8 unit we have is the Duos version, a dual-SIM, dual-standby phone. Both nano-SIM slots can be used to connect to 2G, 3G or 4G networks so you can slip a data card in either slot (or get plans with data on both, but only one can be used at a time).
This will get you up to 300Mbps downlink speeds on an LTE network, 42.4Mbps on a 3G network. You can enable Download booster if your local Wi-Fi is slow, it combines the speed of both LTE and Wi-Fi.
The Galaxy A8 has dual-band Wi-Fi a/b/g/n/ac support as well. Bluetooth 4.1 and ANT+ are available for power-efficient communication with smartwatches and sport trackers. There's no NFC though – this means no simple pairing, no Samsung Pay either.
The other small letdown was the wired connectivity – microUSB 2.0 is run of the mill, but we were hoping for some MHL action. It does have USB OTG though. If you've never used wired TV out or NFC tags those are non-issues, but they are worth keeping in mind for everyone else.
You do get screen mirroring on supported TVs and MirrorLink for cars (if your head unit supports it).
Battery life
Fans weren't happy about the Galaxy Note5 battery getting smaller and getting sealed in. The Galaxy A8 is pretty much in the same boat, 3,050mAh of sealed battery. So is there cause for concern?
No, as it turns out. Our phone aced the battery tests, getting over 12 hours in both web browsing and video playback, plus a whopping good time in the call test.
Our phone, which is the Exynos 5430 version. That chipset is built on a 20nm process and did a wonderful job in the Galaxy Alpha even with its tiny battery.
The other version of Galaxy A8 uses Snapdragon 615, a 28nm chip. True, it lacks the fast, power-hungry Cortex-A15 cores, but we expect different results due to the older manufacturing process.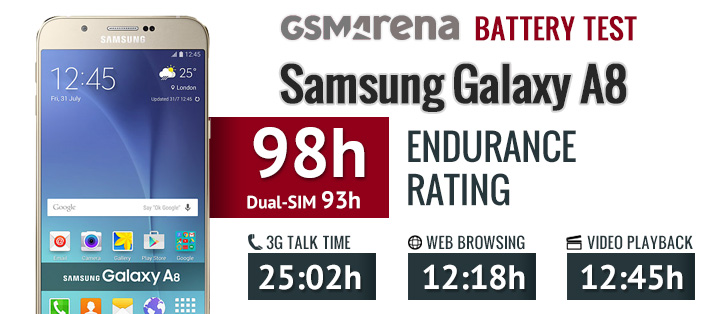 Our proprietary score also includes a standby battery draw test, which is not featured in our battery test scorecard but is calculated in the total endurance rating. Our battery testing procedure is described in detail in case you want to learn more about it.
User interface
Samsung Galaxy A8 comes with Android 5.1.1 Lollipop and the latest incarnation of TouchWiz. The Galaxy A7 had to start from 4.4 KitKat early this year and still isn't on 5.1, so the A8 got the premium treatment.
If you have read our Galaxy S6 or Galaxy Note5 reviews you wouldn't find many differences. The Galaxy A8 comes with themes, Multi Window and very few unwanted pre-installed apps.
The lockscreen follows Android trends with a list of notifications and a couple of shortcuts – dialer and camera. Samsung is proud that the Galaxy A8 can launch its camera in 0.9 seconds (1.7s if the phone was locked). It works with the same double-press gesture as on the Galaxy S6 and launches just as fast.
The added weather info on the lockscreen is perhaps not standard Android, but it's useful enough.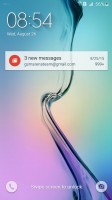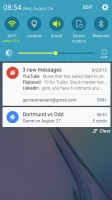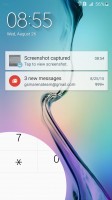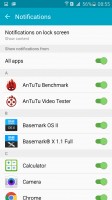 The lockscreen shows notifications, but can hide them from prying eyes too
The lockscreen can be secured with a fingerprint. The reader on the Home button is easy to use (put your finger on it and hold a second) and accurate. You can have the lockscreen hide notifications' content for privacy reasons or disable notifications from specific apps altogether.
Private mode is also available and secured with a fingerprint. It can take photos, videos and other files and securely lock them locked away. You can also activate Samsung KNOX, the company's premium security feature (it's off by default as it "introduces a very small change in performance which adds one second to device boot up time").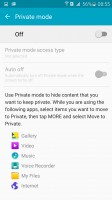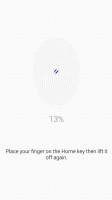 Private mode is best protected with a fingerprint
The Samsung Galaxy A8 is invited to the theme store. The preloaded themes aren't that great, but the store has been progressively getting more variety lately. Themes can change the wallpaper and icons, but also some Samsung apps (dialer, contacts, messages) and the notification area. We wish there was a search function though finding a material theme wasn't too hard.
The homescreen is quite normal. You get the optional Briefing pane on the left, which pulls info from a selection of news sources on topics you find interesting. It's basically Flipboard in disguise. There's an option to change the screen grid between 4×4, 4×5 and 5×5, the smallest one is the default.
The notification area has one scrollable row of quick toggles with some have text underneath, like the name of the Wi-Fi network you are connected to. The only way to view all toggles is to hit the edit button.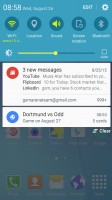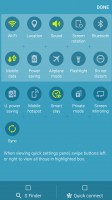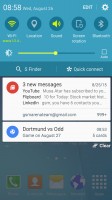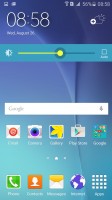 The notification area looks the same but doesn't work the same • changing the brightness
The brightness slider is below the toggles. The S Finder and Quick connect buttons are available, but turned off by default so they don't take up space.
The Samsung Galaxy A8 comes with a page and a bit of icons in its app drawer. Samsung tucked away Google's mandatory apps in a folder and placed its home-brewed alternatives up front. You can disable apps you don't want (but can't uninstall the TouchWiz ones).
Samsung has partnered with Microsoft so you get OneDrive (you get 100GB free as a gift), the only other MS app we found was OneNote. Samsung is showing some restraint but a good 6.6GB of the 32GB total is reserved for the system, with some more going to the pre-installed apps, so overall, the 32GB model is perfectly usable without microSD expansion.
Multi Window is part of the app switcher. TouchWiz uses the Lollipop-style 3D rolodex of apps, but next to the X button is a button that opens the app across half the screen. The other half is filled in with a similar rolodex with only apps that support Multi Window.
Not all work with it, but Samsung and Google apps are available for split-screen use.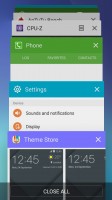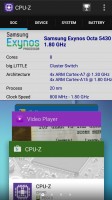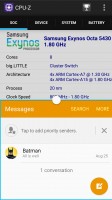 App switcher • Multi Window • launching apps into Multi Window
Another way to launch Multi Window is to long press the App switcher key. If the current app supports Multi Window it will shrink to half the screen, the other half will be taken up by the icons of supported apps. If not, you just get the list of apps.
S Voice is pre-installed but doesn't get in the way. Long-press on the Home button launches Google Now, while a double-press launches the camera. You have to specifically tap the S Voice shortcut, so no more accidental launches.
The Setting menu features Quick settings – a selection of the most used options you can use. Below that is the full list, though we prefer using the search function as the extensive features that Samsung has provided can be hard to track down among menus and submenus.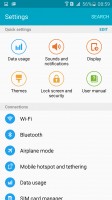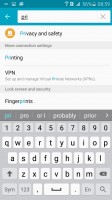 The Setting menu makes it easy to navigate the many options it offers
The TouchWiz software on the new Samsung Galaxy A8 is smooth and with no slowdowns. We experienced some stability issues (a couple of benchmarks crashed), so we'll be on the lookout for a software update that improves stability.
Performance
The Samsung Galaxy A8 is powered by either a Snapdragon 615 chipset or an Exynos 5430 chipset. Both have octa-core processors – two groups of four at 1.3GHz and 1.8GHz respectively. However, in the Snapdragon both groups are Cortex-A53 cores, while the Exynos uses their predecessor, Cortex-A7, for one group and a more powerful Cortex-A15 for the other.
The GPU differs a lot as well, with the Exynos packing a Mali-T628 MP6, which should handle itself well at the 1080p screen resolution. The Snapdragon 615 uses an Adreno 405, which is normally found in 720p phones.
Finally, the Galaxy A8 has only 2GB of RAM. That's enough for most phones, but half what the flagship Galaxy Note5 has.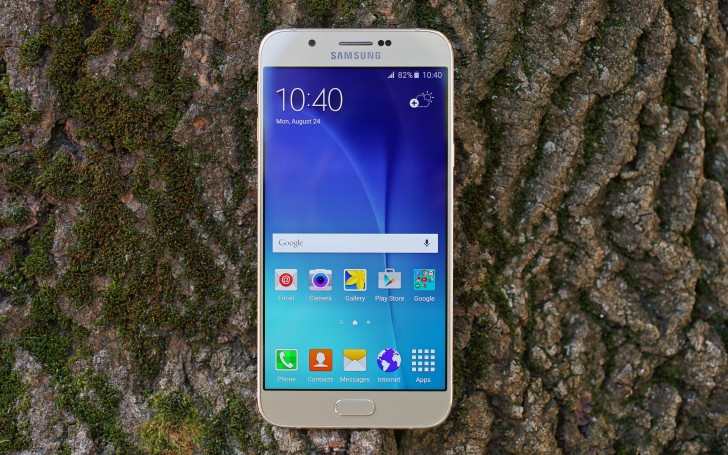 Before we look at the results, it's important to note that the review unit we have is the Exynos 5430 version of the Samsung Galaxy A8.
Starting off with the processor speed, single-core performance lags behind the LG G4, the Cortex-A57 core it has is the successor to the Cortex-A15, but it only has two of them and Galaxy A8's numerical advantage wins out.
GeekBench 3
Higher is better
Basemark OS 2.0 (single-core)
Higher is better
Basemark OS 2.0 (multi-core)
Higher is better
For overall performance, AnTuTu 5 places both on equal footing while Basemark OS II 2.0 showed a lead for the LG G4. Exynos 5430 is no slouch, but it's just no match for the 7-series found in Samsung's most recent flagships.
Basemark OS 2.0
Higher is better
AnTuTu 5
Higher is better
Mali-T628 is not the latest architecture but it has enough oomph for a 1080p screen. The Galaxy Note5 needs a newer Mali-T760MP8 (with more cores to boot) to achieve a similar performance at QHD resolution (keep in mind that's nearly 80% more resolution, so the raw performance difference is fairly big).
GFX 2.7 T-Rex (1080p offscreen)
Higher is better
GFX 2.7 T-Rex (onscreen)
Higher is better
GFX 3.0 Manhattan (1080p offscreen)
Higher is better
GFX 3.0 Manhattan (onscreen)
Higher is better
Basemark X is less enthusiastic about the Mali, but it still puts the Samsung Galaxy A8 above the Oppo R7 Plus, which is powered by Snapdragon 615 and Adreno 405. Also, look at the Galaxy E7 – it uses Adreno 306 in a Snapdragon 410, the GPU is over four times slower than the Mali.
Basemark X
Higher is better
We tested the browsing performance using Samsung's customized Internet browser. For JavaScript (mostly a single-threaded affair) the Galaxy A8 came respectably close to the LG G4.
In BrowserMark 2.1 it matched the LG G4 and came close to the Galaxy Note5. Again, they render at QHD instead of 1080p, but the chipset once again proves to have been the right choice for the job.
Kraken 1.1
Lower is better
BrowserMark 2.1
Higher is better
We're quite happy with the performance of the Samsung Galaxy A8 with Exynos 5430. The chipset was flagship-level stuff a year ago and still holds its own. The Snapdragon 615 version of the A8, however, will struggle with 3D gaming performance as its GPU is only half as powerful as that in the Mali. Still, the processor speed should quite close for many workloads.
Phonebook and telephony
The Samsung Galaxy A8 has a strong reception and good in-call audio. If you have the A8 Duos version you can dial with any active SIM from the dialer and switch the default SIM from the notification area.
The default SIM is the one used when you do a swipe gesture to call or text, for example. The SIM card manager lets you disable dual-SIM mode to save battery.
The call log is visible behind the keypad (you can hide that to view the full list) and it shows which SIM was used to place/take the call. The other two tabs show your favorite contacts and all you contacts.
The Phonebook is a list of contacts with a search field and an alphabet index. The contact info card has been cleaned up and shows the contact image (you can swipe down to view it fully), below that are the phones and emails with quick buttons to call/send message.
Here you'll also find the latest messages and calls with that contact. The View more toggle displays all the additional info. You can swipe left to call a contact straight from the list, right to send them a message.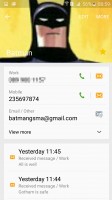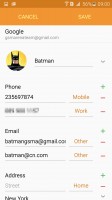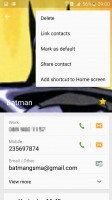 The phonebook reminds you the last chat you had with a contact
The built-in call rejection feature lets you block calls from certain numbers or all numbers not in your phonebook. Do not disturb mode can be scheduled on select days and during certain periods of the day. You can set it to make an exception for certain notifications, including allowing only calls from your favorite contacts.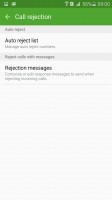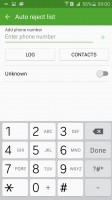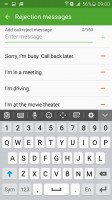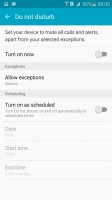 Blocking spam calls • Do not disturb mode
Samsung is sticking to a single loudspeaker for its smartphones. This one is a bit better than what the Galaxy A7 got, but not nearly as good as the speaker on a Galaxy Note. Still, with the right ringtone you won't have trouble hearing the Samsung Galaxy A8, but using the phone in hands-free mode is not the best in a loud environment.
| | | | | |
| --- | --- | --- | --- | --- |
| Speakerphone test | Voice, dB | Pink noise/ Music, dB | Ringing phone, dB | Overall score |
| Apple iPhone 6 Plus | 67.3 | 65.7 | 66.5 | Below Average |
| Samsung Galaxy A7 | 64.8 | 66.3 | 73.5 | Average |
| Samsung Galaxy A8 | 66.7 | 66.6 | 75.7 | Good |
| Microsoft Lumia 640 XL | 72 | 67.7 | 73.5 | Good |
| LG G4 | 66.9 | 71.8 | 74.7 | Good |
| BlackBerry Passport | 76.6 | 71.9 | 76 | Very Good |
| Xiaomi Mi Note | 75.9 | 68.9 | 83.3 | Excellent |
| Samsung Galaxy Note 4 | 74.7 | 73.5 | 81.6 | Excellent |
Messaging
The default messaging app is Samsung's own Messages. It has a clean looking UI and lets you can customize font size, backgrounds and speech bubble style. The app shows a row of priority contacts, below that is the list of all conversation threads. You can use pinch zoom to change the font size in a conversation thread.
Receiving a new message displays a popup that lets you view or quickly reply to a message, a handy functionality that Hangouts lacks.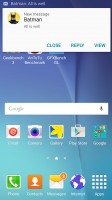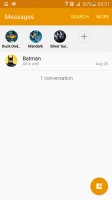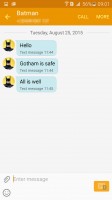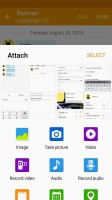 The Messages app handles multimedia attachments per thread
A built-in spam filter weeds out messages from select numbers or containing certain phrases. You can also schedule messages to be automatically sent later (so you don't forget).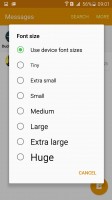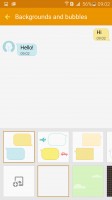 Customizing the look • fighting spam
The Samsung-modified Email app looks almost identical. The top row is a shortcut to show emails only from just priority contacts or you can view a combined inbox if you have multiple accounts added.
The Gmail app also handles multiple accounts – even ones not on Gmail – and adheres more strictly to Material design principles. Add push notifications and we end up using it more often than the Email app.
The Samsung keyboard features a dedicated numbers row. You can assign preset phrases to them so simple messages like "on my way" can be typed in a second. You can add text shortcuts (so 'brb' gets replaced with 'be right back') and there's predictive text.
You can tweak the size of the keyboard slightly, making it taller or shorter and if you are okay with a tiny keyboard, you can use the small floating one.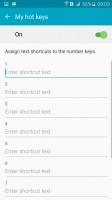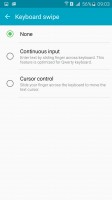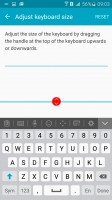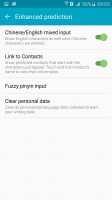 Setting up text shortcuts • teaching predictive text • resizing the keyboard
It can update its database with popular words weekly and learn from your messages and contacts. Swiping can be set to move the text cursor or as an input method.
The Samsung keyboard
Gallery
The TouchWiz gallery has been borrowed from the Galaxy flagships, the app itself borrows from iOS and HTC. The default view shows photos grouped based on time. Thumbnails are shown on a clean white background and you can change their size with a pinch zoom.
Editing tools include simple things like cropping and making collages, you can go into the Photo editor for more advanced editing options (note that you have to download it, it wasn't pre-installed). There's no support for online galleries though.
The Share button allows you to send a photo to a device over DLNA, to a TV using screen mirroring or to a wireless printer. Samsung also has a special feature to send profile photos and high-resolution images to your contacts as a sort of mini social network. For non-Samsung devices, recipients get a link over text message, the link expires after a certain period.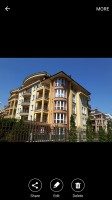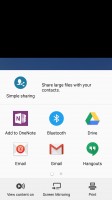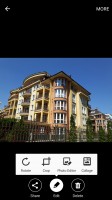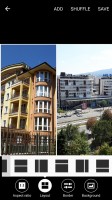 Editing a photo • sharing a photo
Music player
Samsung's TouchWiz music player was one of the most feature-rich apps and the most recent version balances simplicity with features very well.
You can browse your music collection by the usual criteria including Folder view. The Now playing screen lets transfer playback to a Bluetooth or a DLNA device.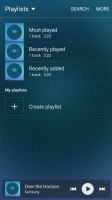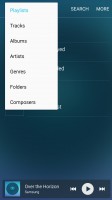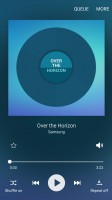 The music player interface has been greatly simplified
SoundAlive shows two dials – one changes the balance between bass and treble, the other between instrumental and vocals. You can tap the Details button for a manual 7-band equalizer. Audiophiles should know 16-bit and 24-bit FLAC audio works out of the box.
Adapt Sound is available to automatically tune the equalizer based on your headphones and your listening preferences. Additional options include SoundAlive+ (creates a surround sound effect) and Tube Amp. There's also Smart volume to balance the volume between tracks and playback speed if you want to slow down or speed up the playback (useful for audio books we guess).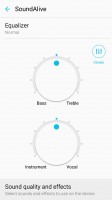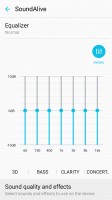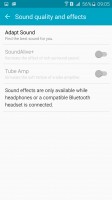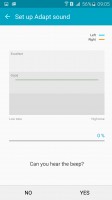 The new, simlper SoundAlive • 7-band equalizer • Adapt Sound and other options
The Samsung Galaxy A8 features an FM radio, a rarity on Galaxy phones these days. It can record radio broadcast (subject to local laws) and provides an alternative to your music collection or internet "radio".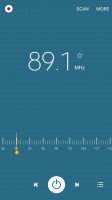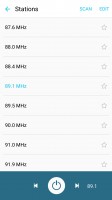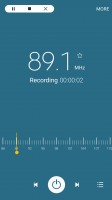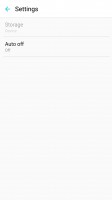 FM radio with broadcast recording
Video player
The video player is similar to the gallery. It can play videos in a small pop-up window or you send the video to DLNA players or use screen mirroring. Alternative you can beam just the audio over Bluetooth, the Play audio only option is useful for music videos – playback continues, while you use the phone as normal.
The video player supports all kinds of video file types and codecs, up to 4K 2160p encoded with the new H.265/HEVC codec. As usual, multi-channel audio (AC-3, DTS) is not supported out of the box.
There are extensive subtitle settings with adjustable font and text size, text color, edge and background. Multiple presets are available and you can make your own. There are built-in video editing options including trimming and video rotation.
Audio output is solid
The Samsung Galaxy A8 aced the active external amplifier part of our audio quality test. It posted excellent scores with no weaknesses to be spotted and had loud output to go with that.
Plugging in our standard set dropped the volume a bit but it still remained above average, while the only major issue we detected was the rather big spike in stereo crosstalk. It all remained great elsewhere though, so the overall showing is certainly pleasing.
Anyway, here go the results so you can do your comparisons.
| | | | | | | |
| --- | --- | --- | --- | --- | --- | --- |
| Test | Frequency response | Noise level | Dynamic range | THD | IMD + Noise | Stereo crosstalk |
| Samsung Galaxy A8 | +0.03, -0.07 | -95.9 | 92.3 | 0.0049 | 0.0099 | -89.9 |
| Samsung Galaxy A8 (headphones) | +0.16, -0.19 | -89.3 | 89.7 | 0.019 | 0.204 | -53.4 |
| OnePlus 2 | +0.01, -0.03 | -94.2 | 92.8 | 0.0023 | 0.0086 | -94.3 |
| OnePlus 2 (headphones) | +0.65, -0.21 | -93.8 | 92.6 | 0.014 | 0.470 | -50.9 |
| Samsung Galaxy S6 | +0.01, -0.04 | -95.6 | 92.8 | 0.0024 | 0.0094 | -94.5 |
| Samsung Galaxy S6 (headphones) | +0.02, -0.05 | -92.6 | 91.9 | 0.0025 | 0.042 | -83.4 |
| LG G4 | +0.04, -0.07 | -93.4 | 93.3 | 0.0021 | 0.050 | -92.6 |
| LG G4 (headphones) | +0.93, -0.13 | – 91.4 | 91.9 | 0.013 | 0.244 | -50.4 |
| HTC One M9 | +0.02, -0.06 | -94.8 | 93.0 | 0.0049 | 0.026 | -93.7 |
| HTC One M9 (headphones) | +0.03, – 0.05 | -93.7 | 92.7 | 0.0082 | 0.030 | -91.6 |
| Apple iPhone 6 | +0.06, -0.02 | -94.0 | 93.9 | 0.0012 | 0.0065 | -73.4 |
| Apple iPhone 6 (headphones) | +0.11, -0.06 | -93.8 | 93.8 | 0.0022 | 0.099 | -65.1 |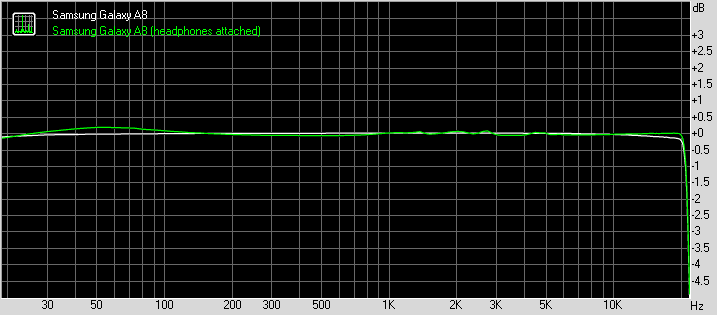 OnePlus 2 frequency response
You can learn more about the tested parameters and the whole testing process here.
Camera
A 16MP camera with f/1.9 aperture makes it sound like the Galaxy A8 uses the same camera as the Note5, though that's not the case. For one, there's no OIS, and also the sensor is different – it's got 4:3 native aspect ratio instead of 16:9. Still, the specs sound quite impressive.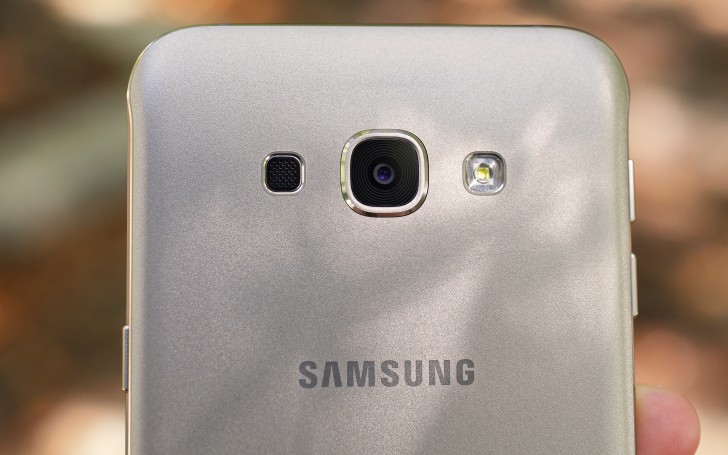 You even get Pro mode though that's not as flexible as the one that flagship S and Note series have. You can only adjust ISO, exposure compensation and white balance. There are more modes available, but you'll have to download them – there's Rear-cam selfie, Animated GIF, Sound & shot, Shot & more and a couple of others.
What you get out of the box (these are the most useful ones anyway) is HDR (Rich tone), Panorama, Continuous shooting and Night mode. There are some live color effects too.
Even outside of Pro mode it's easy to adjust exposure compensation – when you tap on the screen to focus on a specific area, you also get a slider for the exposure.
One thing the Galaxy A8 borrowed from its flagship friends is the quick launch feature. A double press on the Home key starts the camera in under a second and you're ready to shoot (even if the phone was locked).
Even though it's clearly not the same sensor as the Note5, the Galaxy A8 camera turns in very good results. Photos are sharp and rich in detail, noise reduction finds a good balance. Colors are on the cooler side but fairly accurate otherwise. The dynamic range doesn't always cut it and the camera loses some detail in the highlights and in the shadows.






Samsung Galaxy A8 camera samples
When the dynamic range hits its limit, the HDR mode can help a lot. It brings out a lot more detail in the sky and gently boosts the shadows too. It works slower than on an S6 or Note5, but it works well. Except for the resolution – HDR mode downscales images to 8MP, so you only get half of the maximum resolution.





HDR camera samples, note the different resolution
We tried the panorama mode, but it's far from what the flagship series achieve. The maximum vertical resolution is around 1,300px or so (depending on how steady your hands are), far from the dozens of megapixels you would get from a Note. On the positive side, stitching is very accurate.
The selfie camera is very impressive in its own right. It has a wide f/1.9 aperture for selfies in the dark and features Samsung's Wide selfie mode (think panorama for selfies). This mode pushes the field of view to 120° (110° in portrait mode). You can also download a camera mode that lets you snap selfies with the rear camera.
Here's the Samsung Galaxy A8 in our photo quality compare tool, where you can check out how its 16MP camera stacks up against that of the Galaxy Note 4.
Video camera
Video recording is perhaps the biggest difference between the Samsung Galaxy A8 and the Note5. The A8 goes up to only 1080p @ 30fps, a standard but unimpressive resolution. Perhaps many among you haven't transitioned to a 4K TV yet, but it's still nice to have some future-proofing. There isn't even a 60fps or a 120fps mode and those can actually be used today.
FullHD videos are recorded at the usual 17Mbps and the sound is captured at a generous 256Kbps (stereo, 48kHz). The A8 has some good on-board mics too, so the recorded audio is high quality.
You can download an untouched video sample from here – 1080p @ 30fps, 15s.
Check out the Galaxy A8's 1080p video compared to that of the iPhone 6 Plus and the Galaxy Note 4.
Browser and Chrome
The Internet app is the Android browser modified by Samsung. It supports multiple tabs (including incognito ones) and if you sign into your Samsung account, it will sync open tabs and bookmarks with other devices on that account.
A cool features lets you use your fingerprints to sign into web sites. The first time you enter username and password as normal and then select the option to remember the login using fingerprints. Then when the website asks for a login, the phone will prompt you to put your finger on the Home key and a second later the info is filled in and submitted. We found that this doesn't work with all types of login pages, but it should work on most.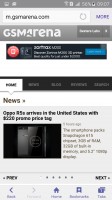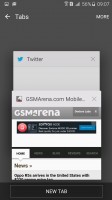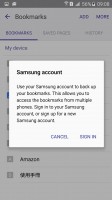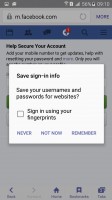 The Internet app • syncing tabs • singing into web sites using a fingerprint
Chrome comes on all Androids as part of the Play Services package. It can sync tabs too (based on your Google account) and has the data-saving option of compressing pages before they are sent to the device. It will even automatically detect foreign language sites and offer to translate them.
Both the Internet app and Chrome support Multi Window.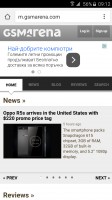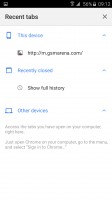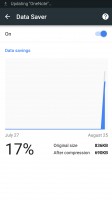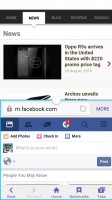 Chrome • syncing tabs with other devices • reducing data usage • Multi Window
Other preinstalled apps
Samsung has partnered with Microsoft and offers three preinstalled apps (that you can't uninstall either). There's OneDrive to handle cloud-syncing needs (including photo backup). You get a free 100GB with your phone. The other app is OneNote for a more advanced note taking and syncing experience than the Memo app offers.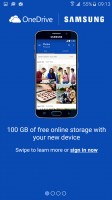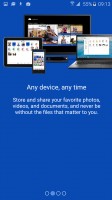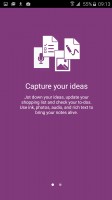 OneDrive and OneNote come preinstalled
Smart Manager shows even more collaboration and is a one-stop shop for maintenance of your device. It's divided into four parts. Battery shows estimated battery life remaining/time until charged and will warn you of abnormal battery usage. The Power saving and Ultra power saving modes can be activated from here.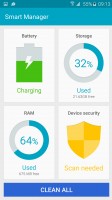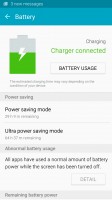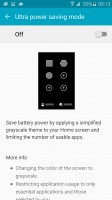 Smart Manager • Battery use • Ultra power saving mode
The Storage section leans on Clean Master to free up some storage by deleting unnecessary files. RAM closes running apps to free up RAM. Other than misbehaving apps, we can't think of a reason to manually close apps on a 3GB device.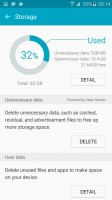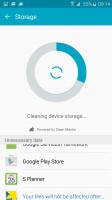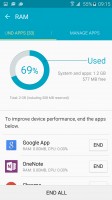 Cleaning up the storage • freeing up RAM
The fourth section is Device security. It offers My KNOX, which create separate working spaces for personal and work apps (think BlackBerry's Balance). KNOX Active Protection promises to safeguard you against hacks – it's disabled by default for casual users and enabled for enterprise users.
It slows down performance a bit and adds 1 second to the boot time. What you get is verification that the system apps haven't been tampered with and real-time kernel protection to avoid unauthorized access from apps to the core of the operating system. There's also a McAfee-powered malware scanner on board.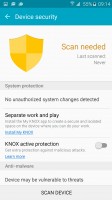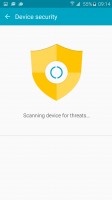 KNOX can balance work and personal apps, protect you from malware and hacks
The Voice recorder app has two modes – standard and Voice memo, which automatically transcribes the note into text.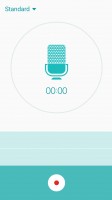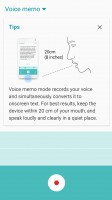 Voice memo can record interviews and take down notes
S Planner is the familiar Samsung replacement for the Google calendar. It defaults to a Month and agenda view, and has a clean Material Design interface. You can add a 7-day weather forecast and multiple calendars.
The My Files app is the built-in file browser. It's beginner friendly with its Category view (e.g. view all photos), but you can browse the whole internal storage) The app also integrates Google Drive so you can seamlessly handle files in the Google cloud. We would have loved to see OneDrive integration too, it would have made using those 100GB easier.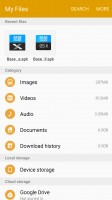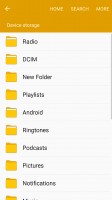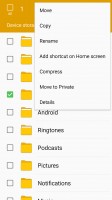 My Files handles local and cloud (Google Drive) files
S Voice is still on board, even though it had to relinquish its traditional shortcut. It can handle a wide variety of voice commands – call or text someone, take down memos and calendar notes, check the weather or read the news, answer spoken questions and so on.
S Voice is still on board
Final words
In recent years Samsung has been rethinking its priorities. Attractive design used to play second fiddle to convenience and sheer number of features, but now the upper end of the range requires metal build. A thin profile wasn't an end in itself either, but Galaxys have consistently been getting slimmer, culminating in the Galaxy A8.
Galaxy A is Samsung's backup flagship lineup, devices ranging from Galaxy S to Note in size. This one puts on a "Note5 lite" image with a Super AMOLED screen of the same diagonal, a 16MP f/1.9 camera and a fingerprint reader. It's thinner at that, lighter, more affordable and has a microSD slot to boot.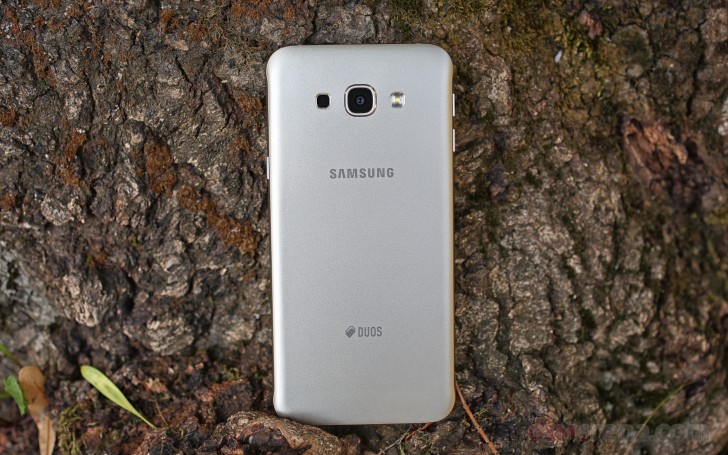 You have to read the (not so) fine print though – the screen is of lower resolution, the camera isn't as capable and you won't be getting Samsung Pay and, of course, no S Pen. Those all sound like a fair trade, especially if you weren't planning on using those or aren't a nerdy power-user.
We really enjoyed the slender profile of the Samsung Galaxy A8 and the tech it packs. It feels great in the hand and the phone sailed through any daily task. But when wondering if we'd pick the A8 over a Galaxy Note 4 or 5 there's one sticking point that kept coming up – performance.
The Galaxy A8 will be equipped differently depending on region. The Exynos 5430 version offered near-flagship experience, but the users getting the Snapdragon 615 will be disappointed if they were hoping for a top-notch gaming experience.
Key test findings:
Samsung's thinnest smartphone and feels much better for it; design still lives in the pre-2015 era though and the plastic back cover takes away from the premium experience
Excellent screen – comfortably legible in sunlight and with accurate colors
Very good battery life (for the Exynos version)
microSD card slot is great for people with tons of media, but TouchWiz eating nearly 7GB of storage isn't cool
The fingerprint sensor is excellent, but no NFC means no Samsung Pay
Samsung's TouchWiz UX offers superb experience for large screen devices, Split screen multitasking being a special treat
Exynos 5430 performs great, but Snapdragon 615-powered versions will struggle with high-end gaming
Great audio quality
Stereo speakers are consistently a glaring omission in the specs thus far in 2015
The 16MP camera is not quite Note5 level, but takes great photos. The videos are of good quality, but no 2160p recording was a letdown
No worldwide availability makes this a niche offering
The Samsung Galaxy A8 is not cheap though the Galaxy Note5 makes it seem very reasonably priced, perhaps even a bargain. Still, you're paying a premium brand price and the smaller players have flooded the 5.5+ inch field with many great offerings.
First things first though, besides the different chipsets, the Galaxy A8 also has two distinct versions of its own – single and dual-SIM. They are essentially identical, except that one can hold a second SIM card where the microSD usually goes. So, it's worth grabbing the dual-SIM even if you never thought you may need it. You'll be surprised when such things can become handy.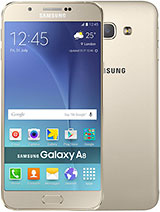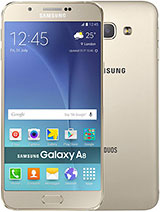 Samsung Galaxy A8 • Samsung Galaxy A8 Duos
The Galaxy A8 stands on its own two feet, but it's inevitable that it will draw comparisons with the Galaxy Note series. The Galaxy Note 4 has been falling in price (especially now that the new one is out) and it boasts a sharper screen, 16MP camera with OIS and, of course, an S Pen. The metal frame/faux leather combo still looks good in our eyes, plus unlike the glass back of the Note5 it gives you full access to the battery and microSD slot.
Then there's obviously the Galaxy A7. It as a slightly smaller screen (5.5″) and no fingerprint reader, but comes close to the A8 spec sheet – a thin (6.3mm) metal frame, same chipsets, 13MP/1080p camera and by now, a more affordable price. Note that it's a step behind in software though (5.0 vs. 5.1).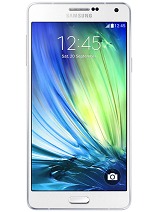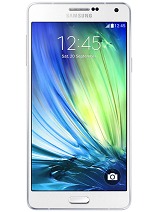 Samsung Galaxy A7 • Samsung Galaxy A7 Duos
5.7″ phones are fairly rare, most makers target 5.5″ and 6″ and skip the middle ground. So there are a few great 5.5″ alternatives and fewer 5.7″ ones.
Motorola recently released the excellent Moto X Play and Moto X Style. The X Play is the more affordable one, with a 5.5″ 1080p screen, a Snapdragon 615 chipset and 21MP/1080p camera. The X Style is pricier (still cheaper than an A8) and brings a 5.7″ QHD screen, Snapdragon 808 and a 21MP/2160p camera.
Both have basic water resistance and front-facing stereo speakers. And they are quite thick, 10+ mm. At least the X Play has a 3,630mAh battery to show for it and you won't worry about software updates anytime soon.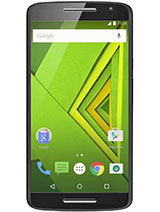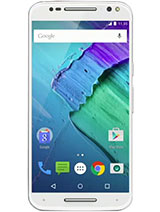 Motorola Moto X Play • Motorola Moto X Style
The Xiaomi Mi Note checks the 5.7″ 1080p, metal frame and fingerprint reader boxes. It comes with an old-but-gold Snapdragon 801 chipset and its 13MP camera can shoot 2160p video, it's reasonably thin at 7mm too. You'll have to pay extra for the 64GB version though, 16GB isn't enough and there's no card slot.
The Mi Note Pro version boosts the screen to QHD resolution and swaps the chipset for Snapdragon 810. You get a bit more RAM (4GB total) and 64GB of storage too.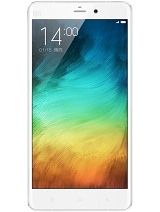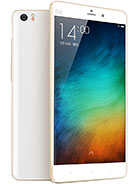 Xiaomi Mi Note • Xiaomi Mi Note Pro
The vivo X5Max is even thinner than the Galaxy A8, its metal frame is only 5.1mm thick. It has a 5.5″ 1080p Super AMOLED screen, a Snapdragon 615 chipset and 13MP/1080p camera. More of a Galaxy A7 competitor, it is still a viable alternative to the A8. The battery capacity (2,300mAh) is uninspiring, but our tests showed the X5Max can last long enough.
Another player in the AMOLED game is the Meizu MX5. It boasts a 5.5″ 1080p AMOLED screen, a 20.7MP camera with a large sensor and 2160p video, a fingerprint scanner and an octa-core Cortex-A53 processor hooked up to a better GPU. The storage is non-expandable though, so try to avoid the 16GB model.
The MX5 is quite affordable as it is, but if you really want to pinch pennies, the Meizu m2 note gives you the basics, though obviously with lower performance. There's a 5.5″ 1080p IGZO screen, an octa-core processor (at lower clockspeed), a 13MP/1080p camera and no fingerprint sensor. You do get expandable storage, so you can save some more cash on that.
Finally, the flagship killer wannabe, the OnePlus 2. It has a 5.5″ 1080p screen and like the Galaxy A8, it has a fingerprint reader but no NFC. It's far from being thin, but it brings 2160p video and Snapdragon 810 on a budget.
At the start, we wondered whether people really need an S Pen. If the answer's no, the Galaxy Note5 starts weighing down on your wallet. On the other hand, the Notes do get the best when it comes to imaging and performance, while with the A8 it depends on getting the right version.
The Samsung Galaxy A8 has many external enemies too, but as you narrow down your filter for slim, metal phones with a big AMOLED screen, a fingerprint scanner and a good camera, you'll watch the price bracket also close around A8's level. With a fair price and solid experience, the Galaxy A8 has the potential to become the surprise bestseller right out of the Note's shadow.
Source : GSMARENA