Samsung surely raised a few eyebrows by equipping the Galaxy Note5 with a smaller battery than its predecessor. The newcomer's 3,000mAh unit is also non-removable, so we were quite curious to put it through the rigors of our battery test.
The Note5 started off its run through our battery test track by recording twenty eight and a half hours of talk time before its battery called it quits. That's the exact same score as Samsung Galaxy Note 4 and a result worthy for a flagship.
Talk time
Lenovo Vibe Z2 Pro

33:20h

Motorola DROID Turbo

30:09h

Microsoft Lumia 640 XL LTE Dual SIM

29:46h

Microsoft Lumia 640 XL LTE

29:46h

Microsoft Lumia 640 XL Dual SIM

29:46h

Microsoft Lumia 640 XL

29:46h

Samsung Galaxy Note5

28:34h

Nokia Lumia 1520

28:34h

Samsung Galaxy Note 4

28:31h

Sony Xperia Z4 Tablet LTE

28:25h

Samsung Galaxy S5

27:37h

Sony Xperia Z1

26:53h

BlackBerry Curve 9380

6:52h
With 10 hours and 43 minutes of web browsing, Samsung Galaxy Note5 once again matched the result of it predecessor before its Android Lollipop update. Considering the Note5's smaller battery, we find its achievement to be quite stellar.
Web browsing
Huawei Ascend Mate2 4G

16:41h

Samsung Galaxy S6 edge

10:56h

Samsung Galaxy S6

10:56h

HTC Desire 510

10:53h

Microsoft Lumia 532 Dual SIM

10:52h

Motorola Moto G 4G

10:52h

Samsung Galaxy Note5

10:43h

Huawei Honor 7

10:38h

LG AKA

10:38h

Nokia Lumia 830

10:36h

Apple iPhone 6

10:29h

Meizu MX4 Pro

10:24h

BlackBerry Bold 9790

4:02h
Video playback is where the smaller battery of the Note5 put it at a disadvantage when compared to its predecessor. Samsung's new flagship phablet lasted for almost 14 hours on a single charge – almost four hours less compared to its predecessor.
Video playback
LG G Flex

19:57h

Samsung Galaxy S6 active

18:03h

Huawei Ascend Mate2 4G

18:01h

Samsung Galaxy Note 4

17:52h

Samsung Galaxy Note5

13:51h

Samsung Galaxy Note 3

13:32h

Sony Xperia T2 Ultra

13:12h

Nokia Lumia 1020

13:12h

HTC One Max

13:11h

Motorola Moto E (2nd gen)

13:04h

Lenovo Vibe X2

5:09h
Superb standby performance of the 14nm Exynos 7420 chipset allowed Samsung Galaxy Note5 to achieve an endurance rating of 85 hours in our battery test. This means that the phablet will easily make it thorough three full days on a single charge if you use it for an hour each of telephony, web browsing, and video playback daily.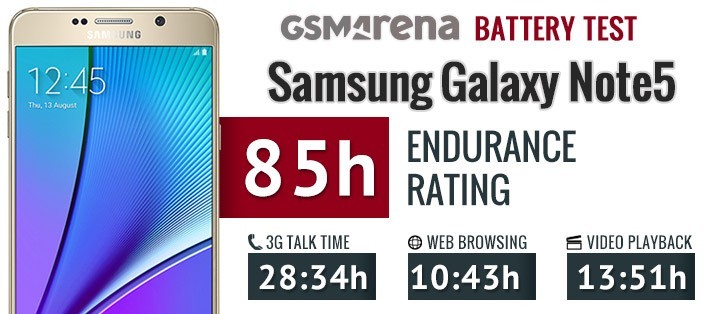 The endurance rating of the Note5 comes only 5 hours short of the one posted by Samsung Galaxy Note 4 with Android Lollipop on board. We reckon that such battery performance will be sufficient for even a discerning power user. The fast charging options on the other hand, ensure that top ups will be quick and convenient.
You can find our more about Samsung Galaxy Note5 in our detailed review.
Source : GSM ARENA