Introduction
Samsung Galaxy S6 edge+, as its name suggests, is the bigger and flashier sibling of the original Galaxy S6 edge smartphone that dazzled the world with its dual-curve display a few months ago. The newcomer is aimed at users who want a premium phablet with distinct design, but don't necessarily need the S Pen of the Samsung Galaxy Note5.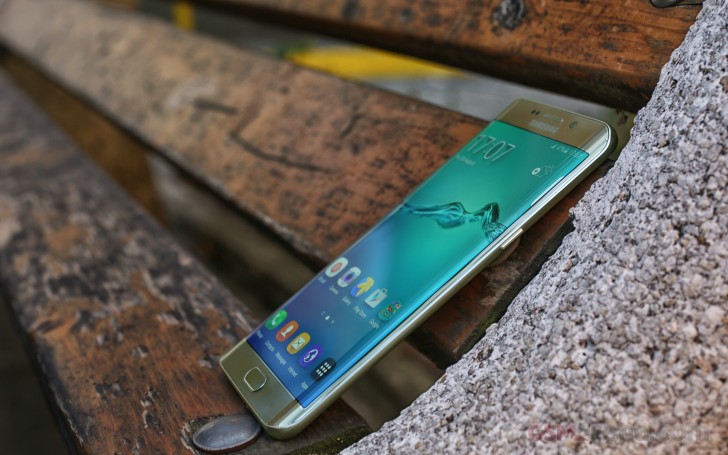 Spec-wise, the Galaxy S6 edge+ offers the same industry-leading hardware as the Note5, save for the lack of a stylus. To make up for the lack of an S Pen, the edge+ boasts a dual-curve display and one of the best designs in the business. Here's a look at the the key features the handset has to offer.
Key features
5.7″ QHD (2560 x 1440 pixels) Super AMOLED display with dual-curve design; 518ppi
64-bit Exynos 7420 chipset with 14nm architecture; octa-core CPU (quad 2.1GHz & quad 1.5GHz), Mali-T760MP8 GPU
4GB of LPDDR4 RAM; 32/64GB of UFS 2.0 flash memory
16MP f/1.9 camera with OIS; Auto HDR; 4K video capture; IR white balance detection
5MP f/1.9 front-facing camera
Cat. 9 LTE network support; WiFi 802.11 a/b/g/n/ac (2.4/5GHz); GPS, GLONASS and Beidou; Bluetooth 4.2; NFC; USB 2.0
NFC and MST mobile payment support
Android 5.1.1 Lollipop with TouchWiz UX
3,000mAh non-removable battery; Qi (WPC) and PMA wireless charging support
Wired and wireless Quick Charging
Fingerprint scanner
Heart-rate monitor
Metal chassis; Corning Gorilla Glass 4 front and back
Main disadvantages
No microSD card slot; no 128GB built-in memory option
The battery is not user-replaceable
No IR port
No enhanced resistance to liquids or dust
No stereo speakers
No particularly easy to handle
Considerably more expensive than Samsung Galaxy Note5
At a quick glance, Samsung Galaxy S6 edge+ will be defined by its design and curved display. It was these two features that allowed the smaller Samsung Galaxy S6 edge to take the smartphone world by storm, so it is hardly a surprise that the company utilized them in larger form factor.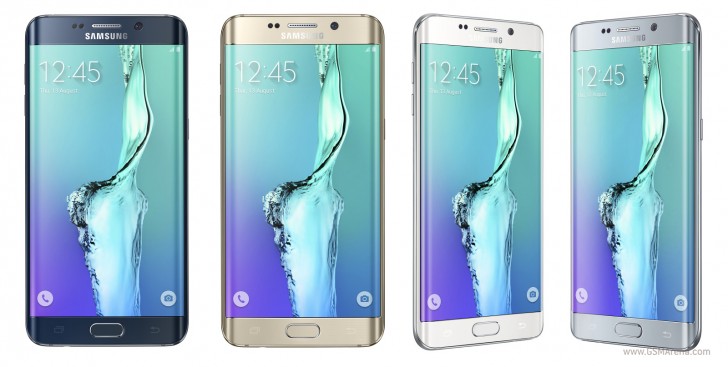 The hardware configuration of the Samsung Galaxy S6 edge+ is one of the best in the business, as well as a familiar sight by now. After all, the S6 edge+ is the fourth smartphone from the Korean giant to pack the power combo of an Exynos 7420 SoC, QHD display and 16MP camera.
Just like in the case of Samsung Galaxy Note5, the biggest question marks in the Galaxy S6 edge+ involve the lack of expandable memory. The absence of a user-replaceable battery is another potential letdown, though we found the Note5 to do quite alright with the controversial solution.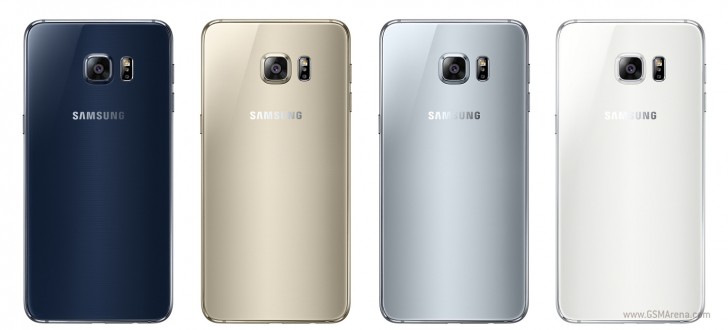 As always, we will kick our review off with an unboxing of the Samsung Galaxy S6 edge+, followed by a design and build quality walkthrough. Head over to the next page for a closer look at the new phablet!
Unboxing
Samsung Galaxy S6 edge+ has the same retail package as the Galaxy Note5. It includes the handset, wall charger, microUSB cable, stereo headset, as well as the usual set of booklets.
As far as basic accessory needs go, the S6 edge+ has you covered right out of the box. Samsung is offering a range of optional accessories for the flagship phablet that include various cases, chargers, and headphones.
Design and build quality
There are no surprises here – Samsung Galaxy S6 edge+ is a slightly stretched out version of the Galaxy S6 edge smartphone in terms of design. Just like its smaller sibling, the newcomer easily attracts attention with its curved display and metal/glass body.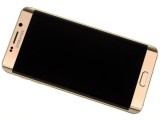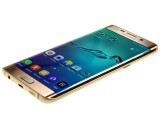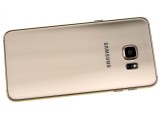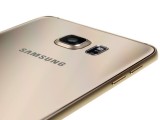 The Samsung Galaxy S6 edge+ in the flesh
Overall, Samsung Galaxy S6 edge+ is one of the best looking pieces of mobile hardware available on the market today. The Korean giant nailed it with the design of the Galaxy S6 edge several months ago, so it is hardly a surprise to see its looks delivered in a larger form factor.
Samsung Galaxy Note5 will be available in four colors – Black Sapphire, White Pearl, Gold Platinum and the newly introduced Silver Titanium. Color availability will vary depending on the market and the wireless carrier.
The build quality of Samsung Galaxy S6 edge+ is excellent. With a body crafted from metal and Corning Gorilla Glass 4, the phablet will easily handle regular wear and tear, so long as no hard drops are involved.
Samsung Galaxy S6 edge+ has physical measures of 154.4 x 75.8 x 6.9 mm, while its weight tips the scale at 153 grams. Thanks to the lack of S Pen on board, the handset is almost a full millimeter thinner than Samsung Galaxy Note5, despite packing the same 3,000mAh battery and you can tell this difference just by holding the two.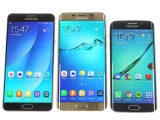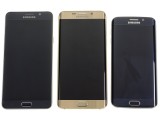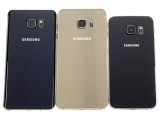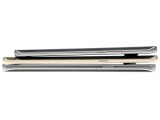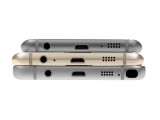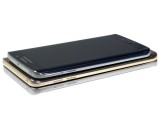 Samsung Galaxy S6 edge+ next to Samsung Galaxy Note5 and Galaxy S6 edge
As expected, Samsung Galaxy S6 edge+ is not as easy to handle as its smaller sibling. However, thanks to its curved display and flat back, the handset allows users to perform some common tasks with one hand.
We found the S6 edge+ to be more comfortable to handle than Samsung Galaxy Note5, though not by a big margin. Just like in the case of the S Pen-toting phablet, we recommend that users opt for a protective case that will enhance their grip of the device.
The tactility of the handset is superb thanks to the premium materials used in its making. However, the same materials make the edge+ prone to smudges.
Controls
Above the display is where the earpiece resides, accompanied by an ambient light and a proximity sensor. The 5MP front-facing unit completes the setup.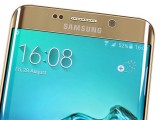 A look above the display of Samsung Galaxy S6 edge+
Samsung's signature home button sits below the screen of the Galaxy S6 edge+ – it contains a fingerprint sensor and is surrounded by a metal ring. A duo of capacitive keys flank the button as always. The blend into the front panel and become invisible when their backlight is off.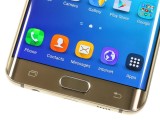 A home button with a fingerprint sensor
The volume control buttons of the phablet sit on its left side; its power/lock key is placed on the right. Because of the curved display, the sides of the phablet's metal frame are barely visible.
There is no IR port on top of the Galaxy S6 edge+. All you will find there is a nano-SIM card slot and a secondary microphone for active background noise canceling in calls.
The bottom of the device features the exact same layout as Samsung Galaxy S6 edge. The device's loudspeaker, its 3.5mm audio jack, and its microUSB port are all located there.
The back of the device is where the slightly protruding 16MP camera sensor can be found. The handset's heart rate sensor and LED flash sit on the right side of the camera.
Display
Just like the Galaxy Note5, Samsung Galaxy S6 edge+ packs a 5.7″ Super AMOLED display with diamond pentile matrix and QHD (2560 x 1440 pixels) resolution. The latter delivers a pixel density of 518ppi on the 5.7″ screen.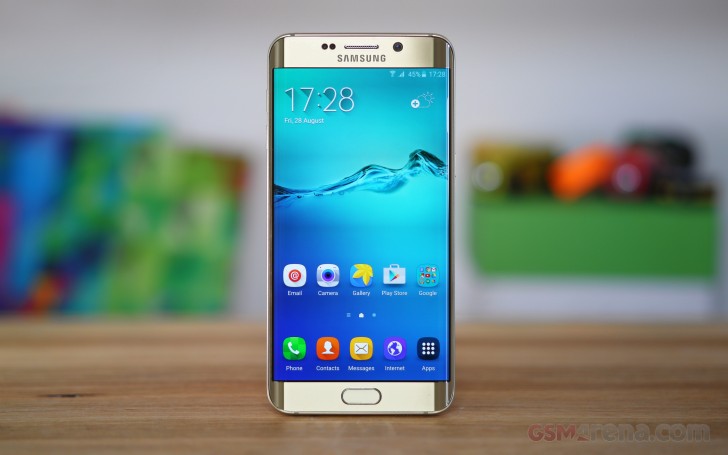 Samsung's flagship smartphones have always boasted some of the best displays in the business and the tradition continues with the latest iteration. Alongside the usual infinite contrast, the screen boasts accurate colors (you can still make them saturated in the settings), as well as top notch brightness and viewing angles.
If you boost the brightness slider you can reach the brightness levels of a good LCD. Keep in mind that in very bright light, the auto brightness mode can push the screen brightness well above what is achievable manually with the slider (up to 540nits). It's not as much as, say, the Note5 (620nits), but the difference is readily visible compared to the regular max screen brightness (410nits).
This sort of brightness levels can be easily beaten by the competing smartphones with LCD screens, but the amazingly low reflectivity of Samsung's SuperAMOLED displays means you can keep the brightness slider down even in bright sunlight conditions and still enjoy legible screen contents.
Viewing angles are great though you might see a minor blue/green tint at steeper angles (it's not uncommon with OLEDs).
Display test
50% brightness
100% brightness
Black, cd/m2
White, cd/m2
Contrast ratio
Black, cd/m2
White, cd/m2
Contrast ratio
Samsung Galaxy S6 edge+
–
172
∞
–
410
∞
Samsung Galaxy S6 edge+ max auto
–
–
–
–
540
–
Samsung Galaxy S6 edge
0.000
208
∞
0.000
473
∞
Samsung Galaxy S6
0
208
∞
0
473
∞
Samsung Galaxy Note5
–
–
–
–
439
∞
Samsung Galaxy Note5 max auto
–
–
–
–
620
–
Samsung Galaxy Note 4
0
291
∞
0
399
∞
LG G4
0.09
108
1240
0.43
532
1238
OnePlus Two
0.158
180
1139
0.299
399
1334
HTC One M9
0.15
175
1180
0.44
534
1221
Samsung Galaxy Note Edge
0
179
∞
0
351
∞
Apple iPhone 6 Plus
0.17
208
1197
0.52
705
1361
Sunlight legibility is once again superb – the second best we've seen to date. The Korean giant has tuned the display to go above the brightness level that's available to the user when in bright environment and it even managed to beat its previous achievement with the Galaxy S6 edge. This means you will be able to use your display even under direct sunlight with little loss of legibility.
Sunlight contrast ratio
The Screen mode setting allows you to choose a color temperature, contrast and saturation preset that best matches your preferences. We found the Basic setting to provide the most accurate colors (average DeltaE 2000 of 2.5 means a factory calibrated display), though at this mode you might find the screen images lacking some contrasty punch.
If the screen looks too bland to your taste at Basic mode, we suggest you go for the AMOLED photo mode, which is nearly as accurate (average DeltaE 2000 of 5) but boosts the contrast along with the saturation of some colors. AMOLED video pushes colors even further, so it would be up to your preference which one you would use.
Battery life
Samsung Galaxy S6 edge+, like the Galaxy Note5, features a 3,000mAh non-removable battery. We put the smartphone through the rounds of our battery test and it achieved an endurance rating of 83 hours.
This means you can rely on the S6 edge+ for three and a half days on a single charge, if you are to use if for an hour each of calls, web browsing and video playback daily. Such usage pattern is of course entirely artificial, but we've established it so our battery results are comparable across devices. In this case, the endurance rating of the S6 edge+ shows it will last you quite close to what the Note5 would with its 85h endurance rating.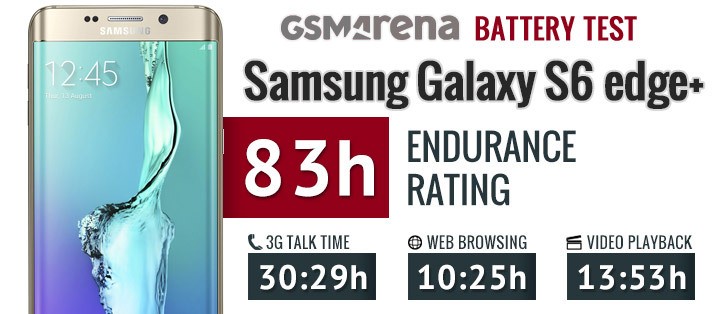 Samsung's quick charger can top up the battery in less than 90 minutes from empty, so it is incredibly convenient to use. Wireless charging, on the other hand is so fast and so liberating, that once you try its convenience, there'll be no turning back. You're fully charged in just 120 minutes.
As always, there are two battery saving modes available to the user – Power Saving and Ultra Power Saving. The latter turns off all, but the most crucial phone features and allows the phablet to last for hours with single percentage digits of battery left.
Combined with the plethora of options to rapidly charge the phablet, we reckon that the battery endurance of Samsung Galaxy S6 edge+ should be good enough for even a seasoned power user. Yes, a removable battery would have been a great thing to have, but we find the sleek metal/glass body of the handset to be a fair tradeoff.
There is always the option of getting an external powerbank as these accessories have been at their cheapest lately.
Connectivity
Samsung Galaxy S6 edge+ packs a kitchen sink full of connectivity options, headed by Cat. 9 LTE connectivity with support for download speeds of up to 450 MB/s. If you have access to an HSPA network only, you'll get a maximum download speed of 42Mbps.
The phablet supports Wi-Fi ac networks for fast local networking. Wi-Fi a/b/g/n at 2.4GHz and 5GHz networks are also supported, of course.
Then there's Bluetooth 4.2 LE with apt-X codec support (for high-quality audio streaming). Wired connectivity takes place over microUSB 2.0 port.
The USB has MHL 3.0 functionality, which allows it to output 2160p video at 30fps, coincidentally the top mode for the camera. The port also supports USB HID devices, like a keyboard and a mouse.
There is also NFC, which is used for Samsung Pay, which lets the device replace the credit cards in your wallet. It's also used for pairing with other devices and reading NFC tags as well.
Oddly, Samsung opted to leave the IR blaster off the Galaxy S6 edge+, so remote controlling your home appliances is a no-go this time around.
Samsung has also released an updated version of their SideSync app, which allows you to share content between a Samsung smartphone and PC or a Samsung tablet and smartphone, as well as remotely control the smartphone from the bigger device (including mouse and keyboard input). It's also the easiest way to transfer multimedia (or any kind of content) with just drag and drop.
User interface
Samsung Galaxy S6 edge+ boots Android 5.1.1 Lollipop, dressed in the Korean manufacturer's TouchWiz UX. The company has been polishing and perfecting its user interface for quite some time now, and the latest iteration is one of the most capable custom takes on Android available around.
The lockscreen shows two notifications – additional ones get collapsed and you only see their icons. You can tap the down arrow to see the full list. If an app gets too pushy, you can hide its notifications from the lockscreen. There is also weather information for your location and pedometer stats.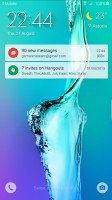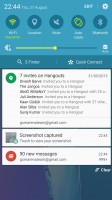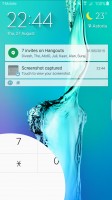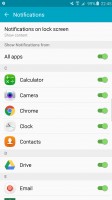 The lockscreen shows notifications • tweaking the settings
Dialer and camera shortcuts are available, but we prefer the other camera shortcut – double-tap the Home key from anywhere in the UI and the camera launches within a second.
Private mode returns and it utilizes the excellent fingerprint reader. After you've trained it, you only need to place your finger for half a second for it to recognize your finger. It's also quite lax when it comes to finger orientation too, no more struggling to swipe just the right way as it was on the Note 4.
Private mode creates a secure folder that disappears when the mode is disabled. You can have Private mode automatically disabled every time you lock the phone.
The lockscreen can also use the fingerprint reader as a locking mechanism. It's quicker and more convenient than swiping and more secure than simple patterns or PIN.
A nice feature allows you to hide the content of the lockscreen notifications or disable them altogether, so people can't snoop on your received messages and emails.
Smart Lock disables the secure locking options when a trusted device is connected (Bluetooth smartwatch or car stereo or an NFC sticker) or when the phone is in a trusted location. Unfortunately, that's determined by geo-positioning only, you can't add a trusted Wi-Fi network.
Just like its smaller siblings, Samsung Galaxy S6 edge+ supports themes. We got three preinstalled out of the box, but you can download more in the Galaxy Apps store, including an Avengers theme (Samsung is the chief supplier of lots of Avengers tech movie props). Themes can change the wallpaper and icons, core apps such as dialer, contacts, and messages, as well as the notification area.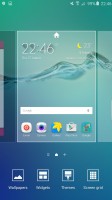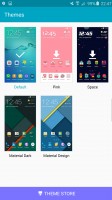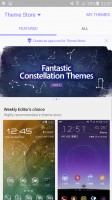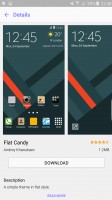 Themes are a great addition to the UI
The homescreen itself is quite familiar. You get the optional FlipBoard Briefing pane on the left, which pulls info from a selection of news sources on topics you find interesting. There's an option to change the screen grid between 4×4, 4×5 and 5×5, the smallest one is the default.
The wallpaper now has a subtle motion effect that we didn't notice at first.You can disable it in the wallpaper settings if you wish.
The notification area has one side-scrollable row of quick toggles. Some have text underneath, showing you the name of the Wi-Fi network you are connected to for example.
The brightness slider is below that and then the S Finder and Quick connect buttons. One cool feature is that while adjusting the slider, the notification area fades away so you can see the app you were using before.
You can rearrange the quick toggles by tapping the Edit button. The S Finder and the Quick Connect shortcuts can also be removed if desired.
The Galaxy S6 edge+ comes with a page and a half of icons in its app drawer, but several folders conceal the actual number of pre-installed apps. Some of the latter are organized in folders.
Multi Window is part of the app switcher. TouchWiz uses Lollipop-style 3D rolodex of apps, but next to the X button is a button that opens the app across half the screen. The other half is filled in with a similar rolodex with only apps that support Multi Window.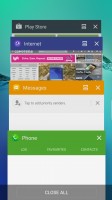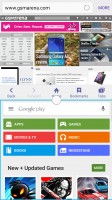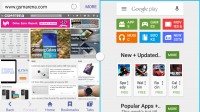 App switcher and multi-window view
Another way to launch Multi Window is to long press the App switcher key. If the current app supports Multi Window it will shrink to half the screen, the other half will be taken up by the icons of supported apps. If not, you just get the list of apps.
The Settings menu features customizable Quick settings – a selection of the most used options you can use. Below that is the full list, though we prefer using the search function as the extensive features that Samsung has provided can be hard to track down among menus and submenus.
Edge screen
Just like its more compact relative, Samsung Galaxy S6 edge+ offers the cool Edge screen functionality. One of the highlight modes is the so-called Night clock. It shows the time and date on one of the edge strips during the night (or for any interval of the day you choose, but up to 12 hours). You don't need to do anything to wake this strip up – it's always on.
The edge strip, no matter if the Night clock is active or not, can be awaken with a short swipe and then swipe down gesture and it will light up brightly. If Information Stream is active, you can scroll between the different info strips.
People edge, another proprietary feature, is really cool as well – when you you have missed notifications from one of your favorite contacts, you will get a tab of their respective color on the side of the edge. You just need to drag it to the left to see what it's about.
Another swipe from the people edge screen brings a row of customizable app shortcuts. The feature premiers on the Samsung Galaxy S6 edge+ and offers cool, quick, and convenient way to access commonly used apps.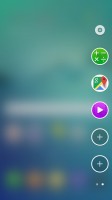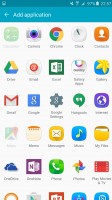 The customizable app shortcuts are quite convenient
You can choose the edge strip position – there is no case scenario you can use both edges for notifications. The exact area to swipe for access to the edge strip can also be tweaked on the large screen of the S6 edge+.
Edge lighting is activated by a notification from one of your favorite contacts, it will even light up in their specific color. You can even reject a call with a pre-defined message by placing a finger on the heart-rate sensor for 2 seconds. The phone must be lying on its screen for those features.
Performance
Samsung Galaxy S6 edge+ packs an Exynos 7420 chipset developed in-house by Samsung with 1.5 GHz quad-core Cortex-A53 CPU, 2.1 GHz quad-core Cortex-A57 CPU, Mali-T760MP8 GPU, and 4GB of RAM. Save for the slight bump in RAM, the hardware setup is the same as in Samsung Galaxy S6 and Galaxy S6 edge.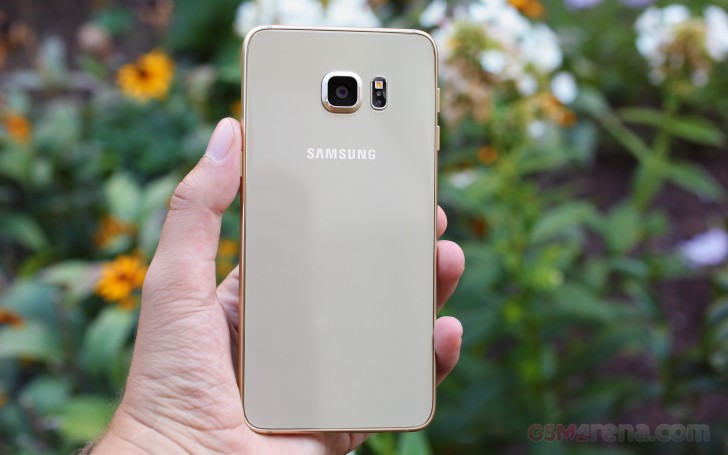 First up is the CPU-centric Geekbench 3 test. Rather unsurprisingly, the Galaxy S6 edge+ performed right in line with the its more compact siblings.
GeekBench 3
Higher is better
AnTuTu 5 painted the exact same picture. The phablet posted a score in the 70,000 points range – just like its smaller relatives and better than any of their Snapdragon-equipped competitors.
AnTuTu 5
Higher is better
Thanks to the increase in RAM memory, Samsung Galaxy S6 edge+ posted eye-popping results in the compound Basemark OS II benchmark. Single-core and multi-core scores on the other hand, were in line with those recorded by the rest of the Galaxy S6 lineup.
Basemark OS II
Higher is better
Basemark OS II (single-core)
Higher is better
Basemark OS II (multi-core)
Higher is better
GFXBench puts the Mali-T760MP8 GPU found in the phablet to the test. The handset posted flagship-worthy results throughout.
GFX 2.7 T-Rex (1080p offscreen)
Higher is better
GFX 2.7 T-Rex (onscreen)
Higher is better
GFX 3.0 Manhattan (1080p offscreen)
Higher is better
GFX 3.0 Manhattan (onscreen)
Higher is better
Basemark X tests the gaming chops of the smartphone. In line with our expectations, the Galaxy S6 edge+ performed just like its more compact relatives from the Galaxy S6 lineup.
Basemark X
Higher is better
We performed the following browser-centric benchmarks with the pre-installed Samsung browser. The phablet posted chart-topping scores in both Mozilla Kraken 1.1 and BrowserMark 2.1.
Kraken 1.1
Lower is better
BrowserMark 2.1
Higher is better
The Samsung Galaxy S6 edge+, just like the Note5, is one of the most powerful smartphones available on the market today. The device handled every task we threw at it without even a hint of breaking sweat. Overall, the 14nm Exynos 7420 feels roughly a year ahead of its closest competitor in terms of performance, heat management, and power efficiency.
Phonebook and telephony
Samsung Galaxy S6 edge+ has excellent reception and in-call audio. If you run the Adapt sound feature, you can also tune the call sound when you use a headset.
The dialer has a Material Design-inspired appearance. Smart dialing (searching through contacts by using the keypad) and speed dialing (assigning a contact to a number on the keypad) are on board. Video calling is also natively supported.
Additional tabs in the app show the call log, favorite contacts and a list of all contacts. You can use the separate Phonebook app for that.
The Phonebook is a list of contacts with a search field and an alphabet index. The contact info card has been cleaned up and shows the contact image (you can swipe down to view it fully), below that are the phones and emails with quick buttons to call/send message.
Here you'll also find the latest messages and calls with that contact. The View more toggle displays all the additional info. You can swipe left to call a contact straight from the list, or right to send them a message.
A built-in call rejection feature lets you block calls from certain numbers or all numbers not in your phonebook. Do not disturb mode can be scheduled on select days and during certain periods of the day. You can set it to make an exception for certain notifications, including allowing only calls from your favorite contacts.
Samsung is sticking to a single loudspeaker with this generation of the Galaxy S flagships, but it has audibly improved in quality. It's not very loud though, but we can forgive it for the excellent sound quality. Obviously Note5 and S6 edge+ share the same model of loudspeaker and both score Average on our test.
The great speaker quality and wider sound range somewhat makes the Galaxy S6 edge+ speaker sounds louder than it actually is, especially when compared to some low-quality (but louder) squeaky speakers.
Even though the Galaxy S6 edge+ score is Average, you'll hardly miss notifications even in noisier environments.
| | | | | |
| --- | --- | --- | --- | --- |
| Speakerphone test | Voice, dB | Pink noise/ Music, dB | Ringing phone, dB | Overall score |
| Apple iPhone 6 Plus | 67.3 | 65.7 | 66.5 | Below Average |
| Samsung Galaxy S6 edge+ | 65.8 | 64.8 | 70.4 | Average |
| Samsung Galaxy Note5 | 65.3 | 64.6 | 73.5 | Average |
| HTC One M9 | 65.2 | 64.6 | 76.1 | Average |
| Samsung Galaxy S6 | 68.1 | 66.3 | 73.7 | Good |
| Samsung Galaxy S6 edge | 69.7 | 66.5 | 73.5 | Good |
| LG G4 | 66.9 | 71.8 | 74.7 | Good |
| Samsung Galaxy S5 | 70.7 | 66.6 | 78.0 | Good |
| Samsung Galaxy S5 mini | 73.5 | 67.7 | 78.7 | Very Good |
| Samsung Galaxy Note 4 | 74.7 | 73.5 | 81.6 | Excellent |
| OnePlus 2 | 75.7 | 73.5 | 80.7 | Excellent |
Messaging
Samsung's messaging app has a clean UI, but you can customize font size, backgrounds and conversation bubbles. The app shows a row of priority contacts, below that is the list of all conversation threads. You can use pinch zoom to change the font size in a conversation thread.
The Album option collects all photos and videos shared in the given conversation thread. The Attach button shows the most recent photos and videos so you can pick them easily, but below that are additional options for other multimedia.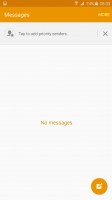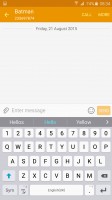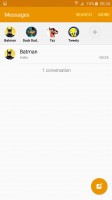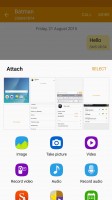 A capable messaging app out of the box
A built-in spam filter weeds out messages from select numbers or containing certain phrases. You can also schedule messages to be automatically sent later (so you don't forget).
The proprietary Email app by Samsung looks almost identical. The top row is a shortcut to show emails only from priority contacts, though you can view a combined inbox if you have multiple accounts added.
The Gmail app also handles multiple accounts – even non-Google one – and adheres more strictly to the Material design principles. It is an excellent alternative to the Samsung's solution.
The Samsung keyboard features a dedicated numbers row. It can update its database with popular words weekly and learn from your messages and contacts. Swiping can be set to move the text cursor or as an input method.
You can tweak the size of the keyboard slightly, making it taller or shorter and, if you are okay with a tiny keyboard, you can use a small floating one. You can add text shortcuts (so 'brb' gets replaced with 'be right back') and predictive text.
Gallery
The gallery's default view shows photos grouped based on time. Thumbnails are shown on a clean white background and you can change their size with a pinch zoom gesture.
Events uses time and location to group photos and automatically create "Video highlights," a slideshow accompanied with music. You can export that to a video to share on your social network of choice.
The Categories view groups multimedia by type – pictures, videos, slow-mo videos, Virtual shots and so on. The People category groups photos based on the faces in them. There's also a Documents category. You can use the Search shortcut to look for photos based on category, people, time, event, location and so on.
Batch operations are gone, but you can easily move photos to Private mode (this requires activating the mode). Editing tools include simple things like Auto adjust, crop and rotate, but you can also do collages and go into the Photo editor, which is the usual Android editor with more advanced crop and rotate tools, color adjustment, effects and dedicated portrait enhancements (slim face, large eyes, you get the idea).
The Share button allows you to send a photo to a device over DLNA, to a TV using screen mirroring or to a wireless printer. Samsung also has a special feature to send profile photos and high-resolution images to your contacts as a sort of mini social network. For non-Samsung devices, recipients get a link over text message, the link expires after a certain period.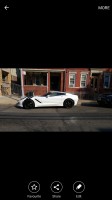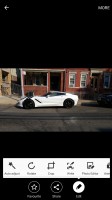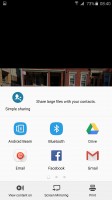 Editing an image • sharing a photo
Music player
Samsung's TouchWiz music player used to be one of the most feature-bloated apps, but the company has done some work to trim the fat. The app looks very clean now, essentially it has just two screens.
One lets you browse tracks and playlists, with a dropdown menu to switch between views including Folder view. The Music square is gone. The other screen is the Now playing with album art and a few playback controls. You can transfer playback to a Bluetooth or a DLNA device.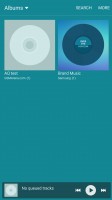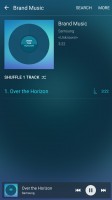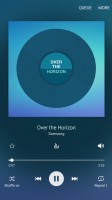 The music player has a clean interface
SoundAlive has gotten rid of the square view too, now it has two dials – one changes the balance between bass and treble, the other between instrumental and vocals. You can tap the Details button for a manual 7-band equalizer. Audiophiles should know 16-bit and 24-bit FLAC audio works out of the box.
Adapt Sound is available to automatically tune the equalizer based on your headphones and your hearing. Additional options include SoundAlive+ (creates a surround sound effect) and Tube Amp. There's also Smart volume to balance the volume between tracks and playback speed if you want to slow down or speed up the playback (useful for audio books we guess).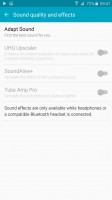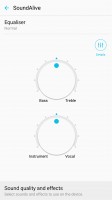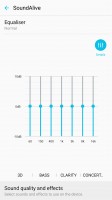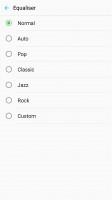 SoundAlive • 7-band equalizer • Adapt Sound
One of the most important additions to the audio credentials of Samsung Galaxy Galaxy S6 edge+ is the UHQ Upscaler. Developed by Samsung, the feature enhances the "sound resolution" of music and video files for better experience with headphones.
Video player
The video player supports all kinds of video file types and codecs, up to 4K 2160p encoded with the new H.265/HEVC codec. As with most phones though, multi-channel audio (AC-3, DTS) is not supported.
The Pop up mode puts the video in a small floating window so you can keep watching while using the phone.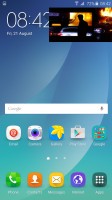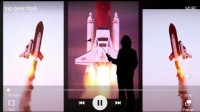 A capable video player right out of the box
There are extensive subtitle settings with adjustable font and text size, text color, edge and background. Multiple presets are available and you can make your own.
You can send video files to DLNA players or use screen mirroring. Alternatively you can beam just the audio over Bluetooth, the Play audio only option is useful for music videos – playback continues, while you use the phone as normal.
There are built-in video editing options including trimming, video color effects and adding background music (with sliders to control the audio volume from both the video and the background music). A more advanced video editor can be downloaded. It can assemble multiple videos and audio tracks together.
Audio output impresses with loudness, has excellent clarity
The Galaxy S6 Edge+ is easily among the most impressive musicians in the Samsung family. The company's flagship lineup has mostly done excellently in our tests, but the curved phablet still managed to outdo them. It had flawlessly clean output when working with an active external amplifier and it garnished it very loud output for an impressive showing.
More impressively, plugging in a pair of headphones didn't cause the volume to drop at all, making this the loudest Galaxy smartphone with a headset plugged in so far. In fact, the only deterioration we spotted with the headphones attached was a moderate hike in stereo crosstalk – it's not the best reading we've seen there, but it's still decent and everything else is simply flawless. An impressive showing indeed.
And here go the results.
| | | | | | | |
| --- | --- | --- | --- | --- | --- | --- |
| Test | Frequency response | Noise level | Dynamic range | THD | IMD + Noise | Stereo crosstalk |
| Samsung Galaxy S6 Edge+ | +0.02, -0.05 | -93.3 | 93.2 | 0.0017 | 0.0070 | -93.7 |
| Samsung Galaxy S6 Edge+ (headphones attached) | +0.03, -0.02 | -93.0 | 93.1 | 0.0058 | 0.038 | -58.3 |
| Samsung Galaxy Note5 | +0.04, -0.01 | -93.6 | 93.5 | 0.0024 | 0.0076 | -94.7 |
| Samsung Galaxy Note5 (headphones attached) | +0.02, -0.05 | -93.1 | 93.2 | 0.0023 | 0.030 | -84.1 |
| Samsung Galaxy Note 4 | +0.01, -0.04 | -96.6 | 93.4 | 0.0015 | 0.0086 | -94.2 |
| Samsung Galaxy Note 4 (headphones attached) | +0.03, -0.02 | -96.8 | 93.5 | 0.011 | 0.035 | -55.2 |
| LG G Flex2 | +0.01, -0.06 | -92.5 | 92.5 | 0.0031 | 0.012 | -91.5 |
| LG G Flex2 (headphones attached) | +0.03, -0.10 | -92.6 | 92.1 | 0.0027 | 0.387 | -60.1 |
| Apple iPhone 6 Plus | +0.04, -0.04 | -94.0 | 94.0 | 0.0013 | 0.0064 | -72.0 |
| Apple iPhone 6 Plus (headphones attached) | +0.10, -0.04 | -94.0 | 93.9 | 0.0016 | 0.087 | -64.1 |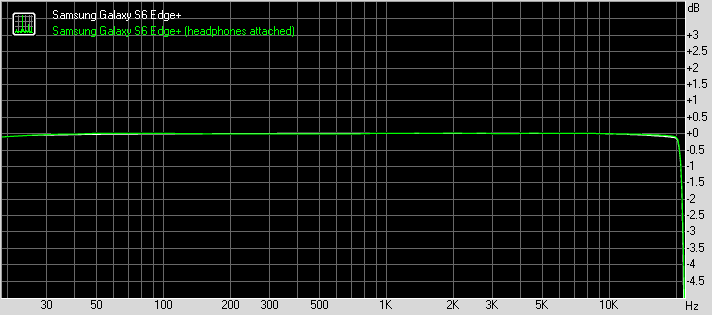 Samsung Galaxy S6 Edge+ frequency response
You can learn more about the tested parameters and the whole testing process here.
A familiar 16MP main camera
Samsung has opted to use the superb 16MP Sony IMX240 sensor in the Galaxy S6 edge+, coupled with f/1.9 lens. That's the same excellent setup that's found in Samsung Galaxy S6 and Galaxy S6 edge with the addition of an IR white balance detection sensor, a feature we first saw implemented on the LG G4. LG calls this sensor Color Spectrum Sensor, but essentially both sensors do the same thing – they try to analyze the color spectrum of the available ambient light so that they deliver a more accurate color (or white as it's called) balance.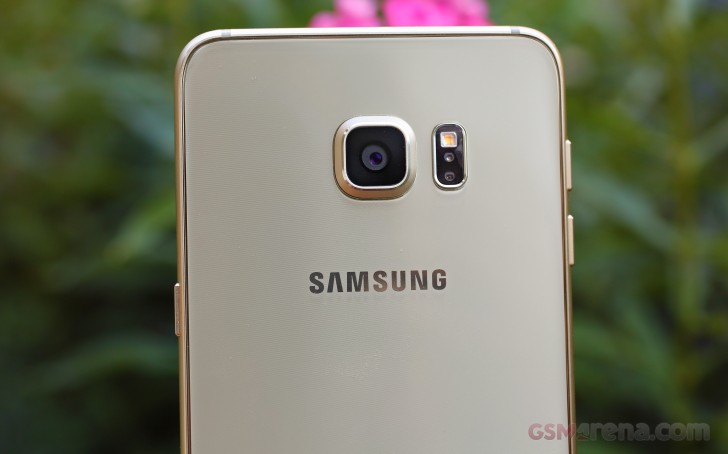 One of our favorite features is the quick launch – double press the Home key from anywhere in the UI and the camera pops up in less than a second.
The camera UI is pretty simple and most settings are available on the viewfinder. The selection changes as you go between the different shooting modes. You can download new shooting modes, but currently only Sports shot is available.
Pro mode lets you control the focus manually, adjust exposure compensation and ISO, white balance too. You can save the current manual settings into a preset for easy recall later.
The color adjustments are very advanced – you get several presets (like color effects), but you can make your own. There are sliders to boost shadows and reign in highlights, adjust the contrast and saturation, the temperature and tint. With these you can create Instagram-y filters or make the best of the camera's dynamic range.
Samsung Galaxy S6 edge+ can also capture images in RAW format. The latter allow those with a knack for post-processing to really get creative with their images.
Live Broadcast is a hot new feature that debuted alongside Samsung Galaxy Galaxy S6 edge+ and Note5. The feature is powered by YouTube and allows a user to share live feed with the world.
The feature requires the user to sign in with a Google account. The setup is quick and easy.
Overall, thanks to the powerful hardware on tap, the camera of Samsung Galaxy S6 edge+ felt fast and responsive at all times. The shooting experience it delivers is one of the best in the business.
As we expected, the Galaxy S6 edge+ 16MP stills came out excellent – the resolved detail is impressive, the color reproduction and white balance are spot-on. There is very little noise, no artefacts or over sharpening. Finally, the dynamic range is among the best we've seen on a mobile and we found almost no use case for the HDR or even the Auto HDR setting.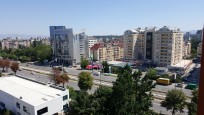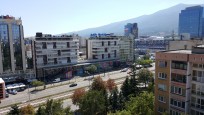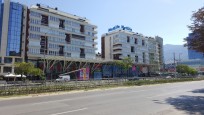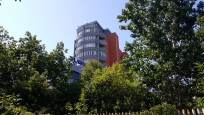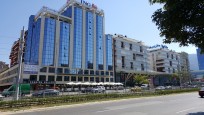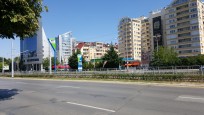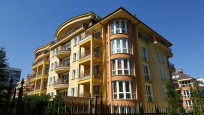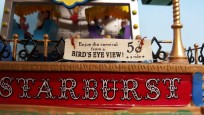 Samsung Galaxy S6 edge+ 16MP camera samples
The samples offer pretty much identical quality with the ones we've taken with the Galaxy S6 and the Galaxy Note5, but that's hardly a surprise, right?
The HDR mode does a great job of lighting up the shadows and not changing anything in the highlights – an excellent job indeed. Thanks to the Live HDR mode you can see the result of the HDR mode even before you've snapped the image.
The Samsung Galaxy S6 edge+ shoots panoramas with very high resolution – 3,200px tall if you hold the phone upright, 1,800px if you hold it on its side. The software and the fast chipset make shooting very simple, you just start panning in one direction.
The resulting images are rich in detail and aside from the moving cars and the ledge that was too close, there are no major stitching artifacts. The resolved detail is as impressive as on the 16MP stills, as is the dynamic range and produced color.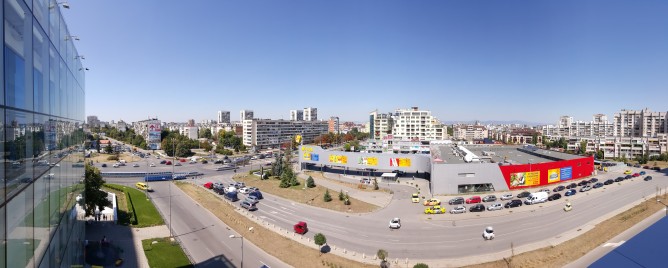 Samsung Galaxy S6 edge+ panoramic samples
The Galaxy S6 edge+ is equipped with a 5MP front-facing camera, which has a similar F/1.9 aperture and offers Live HDR and color filters as well. It has a 120° WideSelfie mode, so it can easily capture group selfies. You can snap selfies with a tap on the heart-rate sensor on the back of the phone.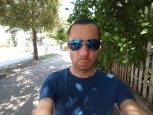 A 5MP selfie with the front camera
Here's the Samsung Galaxy S6 edge+ in our Photo quality comparison tool, where you can pit it against the Galaxy S6 edge, the Galaxy Note 4 and Note5. The Galaxy S6 edge+ camera is identical with the Galaxy S6 edge and Galaxy Note5. We noticed some lack of detail and poor contrast on our gray chart and this spans across the entire Galaxy S6 lineup, Note5 included.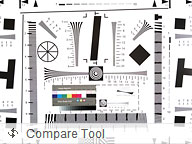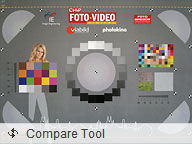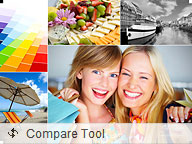 Samsung Galaxy S6 edge+ in our Photo comparison tool
4K video capture
There's no dedicated video mode because most settings work for videos too. Even Pro mode, though you can't adjust the settings during recording and the autofocus will override your setting as soon as the video starts.
Anyway, the Samsung Galaxy S6 edge+ tops out at 2160p resolution, but it can also do QHD video, 1080p at both 30fps and 60fps and 720p video at up to 120fps (that's handled by the Slow Motion mode).
The 120fps video needs slowing down via a video editor such as the one on board the edge+ or one on your computer. The frames are all there, it's just that it's not slow-mo.
The front camera shoots only at 30fps, but it can shoot QHD video to match the phone's screen.
HDR and color effects are available for video, though choosing the 2160p recording mode disables these effects, as well as the option to take pictures while shooting video, the tracking autofocus and the additional software stabilization.
The 2160p videos are shot at the usual 48Mpbs total bitrate, all videos from the Galaxy S6 have 256Kbps/48kHz audio. The videos nail 30fps and a still frame has a good enough quality to pass for an 8MP photo. The videos are sharp, have practically no noise and accurate colors, good dynamic range too.
The 2160p videos can't make use of the digital image stabilization but the optical one is quite good on its own.
Moving on to 1080p at 30fps, we drop to 17Mbps bitrate. The quality remains very high and there's as much detail as possible at this resolution. There's HDR mode at 1080p, which brings in more detail in the shadows and improves the highlights. The HDR effect is barely noticeable though. In this mode both the OIS and the digital image stabilization are available.
The Galaxy S6 edge+ can go up to 60fps when shooting at 1080p resolution. This takes up more storage (28Mbps bitrate) and causes a slight drop in sharpness, but it's worth it for the smoother motion. 30fps has inherent limitations when shooting fast-moving objects and while 4K UHD TVs are still fairly rare (but quickly growing in popularity), practically all TVs can handle 60fps. Digital image stabilization is not available in this mode.
Finally, in Slow motion mode the camera goes back up to 48Mbps but is now shooting 720p @ 120fps. Videos are actually recorded at 120fps, but you can edit them on the phone – trim beginning and end and choose between half, quarter and eighth playback speed.
As usual, you can check the untouched 2160p@30fps video sample, 1080p@60fps video and a 1080p@30fps video sample straight off the device.
If you want to compare still frames from the videos, our Video quality comparison tool makes that easy. Here's how the Samsung Galaxy S6 edge+ compares against other 2160p shooters.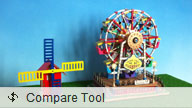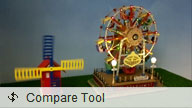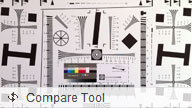 Samsung Galaxy S6 edge+ 4K in our Video comparison tool
And here's another similar comparison, but this time for the 1080p video.
Samsung Galaxy S6 edge+ 1080p in our Video comparison tool
Samsung browser and Google Chrome
The Internet app is the Android browser modified by Samsung. It supports multiple tabs (including incognito ones) and if you sign into your Samsung account, it will sync open tabs and bookmarks with other devices on that account.
A cool features lets you use your fingerprints to sign into web sites. The first time you enter username and password as normal and then select the option to remember the login using fingerprints. Then when the website asks for a login the phone will prompt you to put your finger on the Home key and a second later the info is filled in and submitted. We found that this doesn't work with all types of login pages, but it should work on most.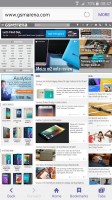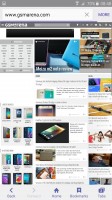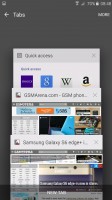 The preloaded browser by Samsung is hugely capable
Google Chrome comes on all Android device as part of the Play Services package. It can sync tabs too (based on your Google account) and has the data-saving option of compressing pages before they are sent to the device. It will even automatically detect foreign language sites and offer to translate them.
Both the Internet app and Chrome support Multi Window.
Other preinstalled apps
Smart Manager shows even more collaboration and is a one-stop shop for maintenance of your device. It's divided into four parts. Battery shows estimated battery life remaining/time until charged and will warn you of abnormal battery usage. The Power saving and Ultra power saving modes can be activated from here.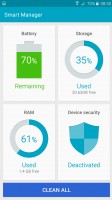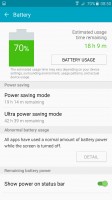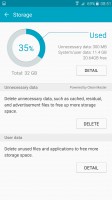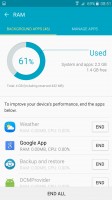 Smart Manager • Battery use • Memory management
The Storage section leans on Clean Master to free up some storage by deleting unnecessary files. RAM closes running apps to free up RAM. Other than misbehaving apps, we can't think of a reason to manually close apps on a 4GB device.
The fourth section is Device security. It offers My KNOX, which create separate working spaces for personal and work apps (think BlackBerry's Balance). KNOX Active Protection promises to safeguard you against hacks – it's disabled by default for casual users and enabled for enterprise users.
It slows down performance a bit and adds 1 second to the boot time. What you get is verification that the system apps haven't been tampered with and real-time kernel protection to avoid unauthorized access from apps to the core of the operating system. There's also a McAfee-powered malware scanner on board.
S Health has been polished. It can sync your health data with your Samsung Account (optionally via Wi-Fi only). The new UI uses simple cards that count your steps, offer to measure your heart rate, track what you eat and drink, your sleep and various exercises.
The phone has the hardware to do spot measurements of your heart rate and blood oxygen saturation and estimate stress. You can add external sensors for continuous tracking. The app comes with three built-in programs that will train you, building up to a 10K run. It's not all about exercise, S Health can help you eat healthier or make sure you get proper rest.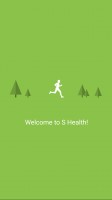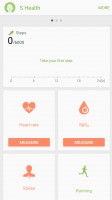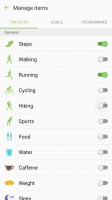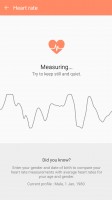 S Health keeps getting better with time
The Voice recorder app has Interview mode, which uses the mic array to suppress sounds from the sides. You can also mute one side of the conversation so only the answers of your interviewee are audible. The other mode is Voice memo, which automatically transcribes the note into text.
S Planner is the familiar Samsung replacement for the Google calendar. It defaults to a Month and agenda view, and has a clean Material Design interface. You can add a 7-day weather forecast and multiple calendars.
The My Files app is the built-in file browser. It's beginner friendly with its Category view (e.g. view all photos), but you can browse the whole internal storage). The app also integrates Google Drive so you can seamlessly handle files in the Google cloud.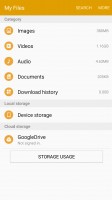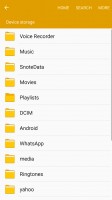 The file manager is quite useful
S Voice is still on board, even though it had to relinquish its traditional shortcut. It can handle a wide variety of voice commands – call or text someone, take down memos and calendar notes, check the weather or read the news, answer spoken questions and so on.
The app has no UI, it just needs an initial training (you say an activation phrase four times). Then from anywhere in the UI you speak the phrase and your command, all you'll see is a small graphical equalizer at the bottom of the screen as you speak. Google Now can do plenty of these things (even if it's not as conversational).
SideSync allows you to connect your phablet with another device and mirror it entirely. The feature works on PCs and tablets, with Mac support due to arrive in the near future.
There's OneDrive to handle cloud-syncing needs with 100GB of free storage. WhatsApp, Instagram, and Facebook Messenger are also on board, tucked into a dedicated folder.
Final words
Samsung Galaxy S6 edge+ performed just as we expected. And yes, the Note5 which we reviewed before that was like a huge spoiler for what the expect as the two are so alike. Both are gorgeous to look at, superbly crafted, and incredibly capable in terms of hardware.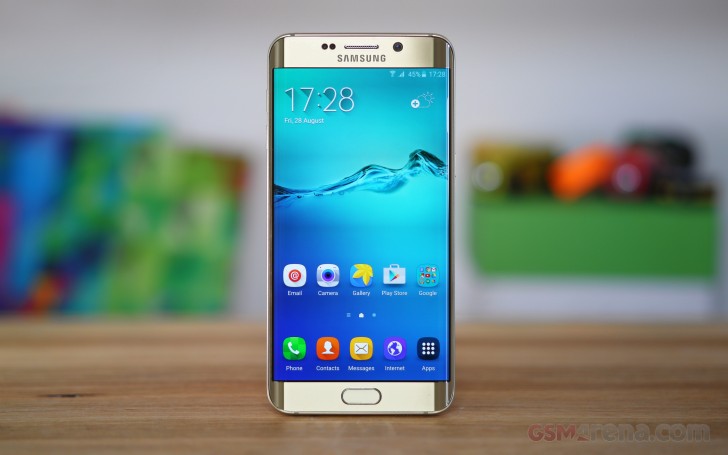 Unlike the Galaxy Note5 however, which is defined by its S Pen and top notch productivity credentials, the Samsung Galaxy S6 edge+ is all about that curved display and unique eye-grabbing design. Thanks to the bigger size of its screen, the newcomer is an even bigger attention grabber than the original Galaxy S6 edge.
Key test findings:
The S6 edge+ is one of the best looking pieces of smartphone hardware available at the moment;
Build quality is as excellent as in the rest of the Galaxy S6/Note5 product family;
The combination of Samsung's Exynos 7420 chipset and 4GB of RAM is the best performance-wise available on the Android smartphone at the moment;
Yet again, the screen is sharp, bright and great even in direct sunlight, the Basic screen preset provides perfect color accuracy if you need it;
The 16MP main camera is superb – it also feels faster than on the S6 edge, possibly due to the bump in RAM;
Battery performance is excellent despite everyone's initial fears;
Quick wired and wireless charging options are effective and incredibly convenient;
The fingerprint sensor is one of the best around;
The loudest Galaxy to date, the smartphone delivers impressively clear audio output via its 3.5mm audio jack;
Loudness of the on-board speaker however is only average;
Samsung's TouchWiz UX offers superb experience for large screen devices;
The body of the handset can be slippery and prone to smudges and would most probably require a protective case (unless you have good insurance);
The 32GB variant is hard to recommend, as it offers less than 25GB available to the user;
The higher price tag of the Galaxy S6 edge+ over Galaxy Note5 is a tad baffling considering the lack of an S Pen means it's got one important feature less.
By now, we have heaped plenty of praise for the Samsung-made Exynos 7420 chipset found in the Galaxy S6 edge+. Coupled with 4GB of RAM, the component is currently the best available on any smartphone today – it is well ahead of its closest competitor in terms of performance, heat management, and power efficiency.
Just like in the case of the Galaxy Note5, the 5.7" QHD display of Samsung Galaxy S6 edge+ offered a top notch viewing experience. The latter has been enhanced even further thanks to the curved 2.5D glass on top of the phablet.
Over the past few months, we became well acquainted with the 16MP main camera in Samsung's 2015 flagship smartphones. The same snapper delivered the goods in the Galaxy S6 edge+ as well – it actually felt even more responsive than in the regular Galaxy S6 edge thanks to the bump in RAM in the plus variant.
The 3,000mAh battery found in Samsung Galaxy S6 edge+ has already proven itself a solid performer in the Galaxy Note5. Therefore, we weren't surprised by its stellar endurance rating in our battery test. The device's battery performance should live up to the expectations of even the most seasoned power users, while the quick charging options allow easy top ups.
Save for the lack of an IR port, the Galaxy S6 edge+ offers more connectivity options than a user will possibly need. Samsung Pay on the other hand, looks poised to steal the thunder of its Apple competitor when it launches next month as it will be able mimic any credit or debit card just by scanning its magnetic strip but it would have a hard time making it in Europe where cards have chips.
Like in the Galaxy Note5, lack of expandable memory is the biggest gripe we have with Samsung Galaxy S6 edge+. The absence of cheap expansion makes the entry-level variant of the device difficult to recommend, as it comes with roughly 25GB of memory available to the user.
It seems to us that Samsung is betting big that most users of the phablet will rely heavily on cloud storage for their daily needs. For those who are not keen on uploading their life on a server, the 64GB variant of the Galaxy S6 edge+ is the only option to consider. Samsung is yet to make a decision on launching a 128GB variant of the phablet.
Samsung Galaxy S6 edge+ is roughly $100 more expensive than a Galaxy Note5 with the same amount of built-in memory, so its price tag comes dangerously close to the $1,000 mark. Considering the lack of an S Pen, we attribute the price difference to the more expensive curved glass panel that the S6 edge+ sports. In any case, Galaxy Note fans can make an argument that the S6 edge+ skimps on a very important feature – the unique S Pen, which is still unmatched among Samsung's competition.
Speaking of which, we took a look around for some of the competitors that the Samsung Galaxy S6 edge+ has to face these days. Take a look at some of the noteworthy alternatives below (outside of the Note5).
Last year's Samsung Galaxy Note Edge is cheaper, yet capable alternative to the S6 edge+. The S Pen-toting 2014 flagship also looks like nothing else on the market thanks to its display with a sole curve on its right side.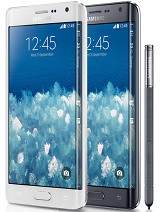 The Note Edge features less powerful hardware than the S6 edge+ and it's bulkier. It will also lack support for Samsung Pay.
Samsung Galaxy S6 edge has been around for a few months now, so deals on the smartphone are abundant. Save for the lower amount of RAM and smaller display, the S6 edge matches the specs of its bigger sibling for less money.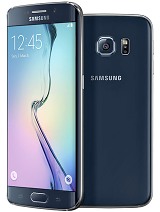 Apple iPhone 6 Plus and, more specifically, its upcoming successor set for announcement on Sept. 9 will be the biggest rivals to the Galaxy S6 edge+ in the smartphone realm. The successor of Apple's first phablet will debut on September 9.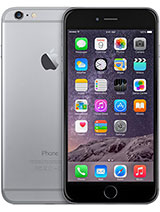 As we know all too well by now, the Cupertino giant's offering will count its rich app ecosystem and overall user experience to attract users. Spec for spec, it will almost certainly not match what Samsung Galaxy S6 edge+ has to offer.
LG G4 is the only "old school" flagship to come out this year, packing both a replaceable battery and expandable memory. The leather-clad G4 is also cheaper, but nowhere near as powerful as the S6 edge+. It also lacks goodies such as wireless charging and fingerprint sensor.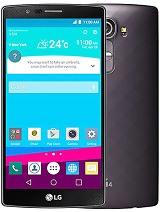 Moto X Style is cheaper, customizable, and with a microSD card slot and stereo speakers on board. However, the now Lenovo-made offering lags behind the S6 edge+ in terms of hardware oomph. Fingerprint and heart rate sensors are also a no-go in the Moto X.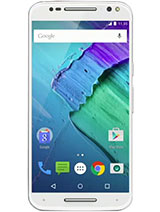 The Galaxy S6 edge+ is arguably Samsung's best effort in terms of design and hardware to date. You will not buy the smartphone because you need it – that's what the proven Galaxy Note5 is for.
Instead, like many fine things in life, the S6 edge+ will be an item that users buy because they want it, despite its high price tag. Thankfully, the latter will land you a phablet that's as capable as it is good looking. Along with the Note5, the S6 edge+ is easily the best large screen Android handset available at the moment.
Source : GSMARENA