These are busy times for Xiaomi, with the company prepping for the launch of its MIUI 7 Android overlay first in China on August 13 and then globally 6 days later. Rumors hinted that the first date may also witness the unveiling of the somewhat overdue Redmi Note 2 and a listing on Oppomart has appeared to corroborate them. The retailer lists the smartphone as out of stock for the moment but the entry comes complete with a price and specs, though they raise more red flags than answer questions.
For starters, the $249 price is nearly twice as much as the predecessor and the Redmi Note 2 is no longer the bargain package the original Redmi Note was. That said, the smartphone appears to have better hardware to show for it, if only it was more in line with the info already outed by Chinese certification authority TENAA.
Anyway, according to the retailer, the Xiaomi Redmi Note 2 will sport a 5.7-inch FullHD display (TENAA states 5.5 inches) with 2D glass on top, which we'd be inclined to just call glass. However, the description below the 5.7-inch headline reads a 5.5-inch display, and is otherwise a direct copy from the Mi Note page, so it could very well be a mistake.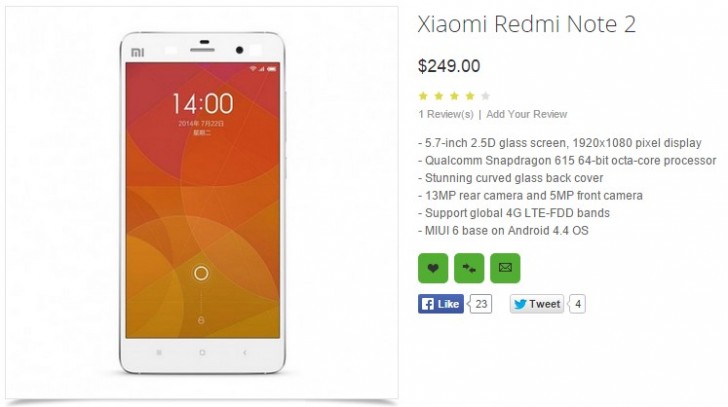 The Snapdragon 615 chipset that's quoted to power the device is more believable, as it's been mentioned in the same sentence as the Redmi Note 2 as early as last October. 2GB of RAM is becoming the bare minimum in the midrange, and the smartphone will have it covered, while the 16GB of internal storage is likely going to be expandable via microSD, since the previous generation was. The 13MP/5MP camera combo appears to be carried over as well.
What's more exciting is the 3,600mAh battery capacity, but it is again at odds with the certification docs, which listed it at 3,020mAh. Interestingly, the Redmi Note 2 is said to be running on the MIUI 6 over Android 4.4 KitKat, which makes it a less than perfect ambassador for the seventh OS version, due to be announced in a couple of days.
All of the above creates the strong impression that the listing is just a placeholder, but it's not unheard of for TENAA to get specs wrong in the past, so you never know.